10ft Telephone Handset Receiver Cord Phone Curly Coil Cable 4P4C RJ22 - Black Unbranded/Generic 106284BK
Характеристики
Cord Length Info
10ft length is when cable is fully stretched out
Connector Type
4P4C (Handset Cord Connector)

Telephone Handset Cord
DESCRIPTION
Quantity: 1
Telephone Handset Cord - generally used to connect the telephone to the handset
Length: 10ft***
Color: Black
Standard RJ22 plug is compatible with almost all phones on the market
4P4C
***Length of item is based on the measurement when the cord is fully stretched out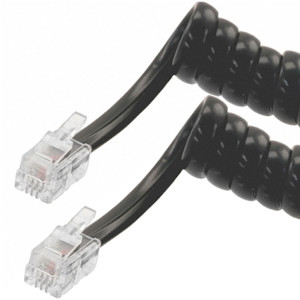 Shipments will be sent via the United States Postal Service, UPS Ground, or UPS SurePost. To help keep our prices low we will ship your product via the most affordable method of the three which is determined by our "rate shop" calculator which determines our shipping cost based on the size and weight of the package, the delivery zone, and whether the delivery is to a commercial or residential address. Generally, but not always, packages being shipped to a commercial address or packages weighing over 9 lbs will ship via UPS Ground. Residential packages weighing less than 9 lbs will usually be delivered by USPS.
Because your package may be delivered by either UPS or USPS please provide your physical shipping address, and if you have a PO Box for USPS shipments then please provide that with your shipping address as well.
No matter what delivery method we use, you can be assured that we will ship your order out as quickly as possible. We ship all in-stock orders the same business day as long as the order is received by 3 PM CST. Any orders received after 3 PM CST will ship the following business day. Please keep in mind that any orders made after 3 PM CST on Friday will not ship out until the following Monday.
The map below shows the delivery estimates for UPS Ground Shipments. This is just for reference if your package does ship UPS Ground. If your order ships via UPS SurePost, one business day will be added to the delivery schedule below. If your order ships via USPS then your order will be delivered anywhere between 1 to 5 business days depending on the delivery distance from our location in Springdale, Arkansas.
UPS Ground transit times: