2 CA WOODLAND Tokens GEO. DUGAN 5¢(Pool Hall) K33; STORKMANS 5¢ K73 $3s&hUS Без бренда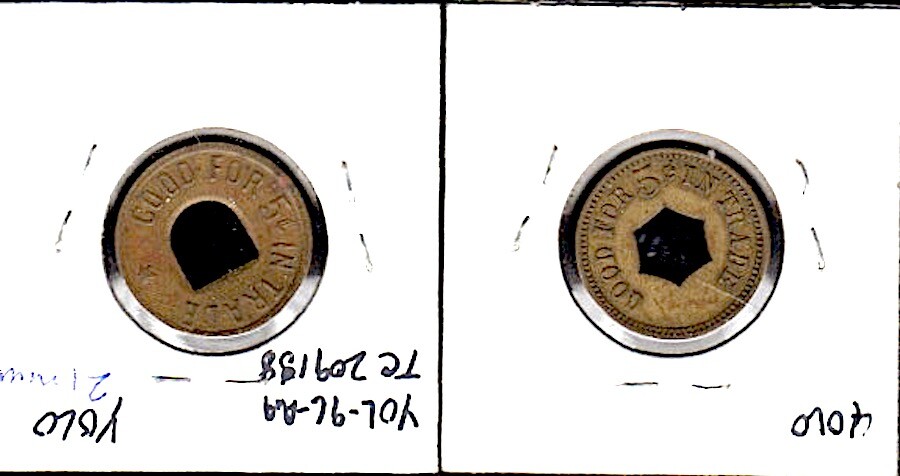 Характеристики
Country of Manufacture
United States
Country/Region of Manufacture
United States
Circulated/Uncirculated
Circulated
2 CA WOODLAND Tokens GEO. DUGAN 5¢ (Pool Hall) K33; STORKMAN'S 5¢ K73 $3s&hUS
CA WOODLANDS GEO. DUGAN 5¢ I.T. (Pool Hall and Cigars) Token K-33 Brass 21mm Cut out "D", It catalogs as Album
Yol-96-AA; Token Catalog TC-209188
CA WOODLAND STORKMAN 5¢ I.T. K-73 Brass 21mm cut-out Hexagon, Bow Tie, TC-339914; K-73
$3s&hUS
ALSO LISTED AT PRESENT IS ONE OF THE 5¢ TOKENS FROM HARRY'S BILLIARDS.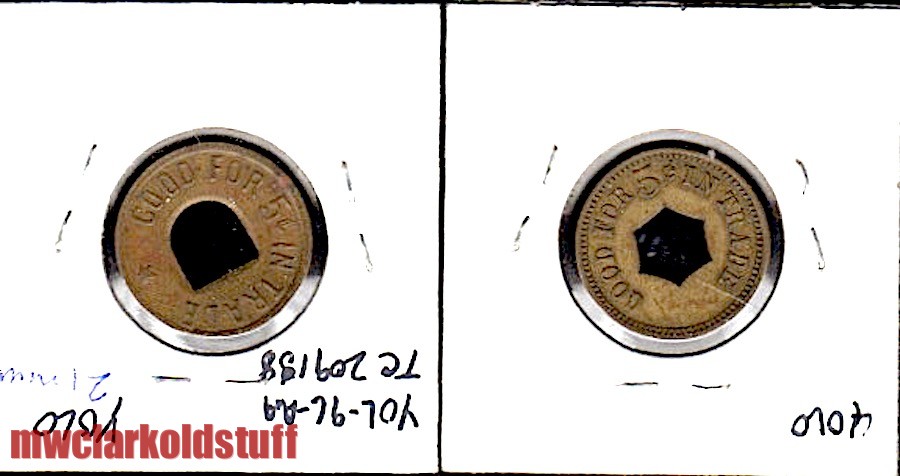 ----->PLEASE READ ALL THE INFORMATION BELOW BEFORE BIDDING.<-----
----->ESPECIALLY IF YOU ARE NOT IN THE USA PLEASE READ ALL THE SHIPPING INFORMATION BELOW!!!!
----->BIDDING OR BUYING ON EBAY IS A LEGALLY BINDING CONTRACT!
IF YOU DO NOT PLAN ON PAYING, PLEASE DON'T PARTICIPATE!!!
SHIPPING:
USA BUYER: pays $3 First Class with Tracking or $7.50 Priority with Tracking in the USA;
CANADA BUYER: pays $18 Intl First Class with Tracking or $28 Priority Envelope with Tracking;
INTERNATIONAL BUYER: Intl s&h MINIMUM will be $70 Priority Mail or FedEx at $80. See EXCLUDED SHIPPING LOCATIONS List under Shipping.
PAYMENT due 5 days after the close of the auction.
PAYPAL.com payments preferred. Payments in US Dollars only Please. BUT if you wish to use other payment methods, contact me BEFORE bidding on any lot!!!
Multiple purchases that can be combined for shipping MAY result in lower total s&h.
Full care given to packaging to prevent any damage.
CONTACT ME BEFORE ANY PAYMENTS ARE MADE FOR YOUR S&H.
IF THERE IS ANY DOUBT, DO NOT MAKE PAYMENTS BEFORE GETTING THE PROPER COSTS.
On the advice of a lawyer and postal authorities I do not reduce the value or change the descriptions on Customs Declarations. I do not wish to be fined or even have to communicate with the authorities about this. I am not responsible for import duties.
OVERSEAS BUYERS - CONFIRM YOUR TOTAL WITH ME!
CALIFORNIA addresses will pay the Local Sales Tax.
CALIFORNIA Resale License: you have the option of paying the sales tax and then subtracting it on your tax report as "sales tax paid for items put into inventory".
ANY DOUBTS? DO NOT SEND PAYMENT UNTIL ACTUAL AMOUNT IS EXPLAINED!!!