2 CANS GV Meadow Spray Disinfectant 19oz Each Kills FLU Virus & 99.9% of Germs Great Value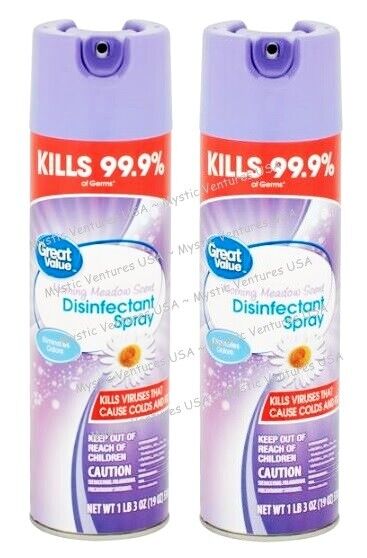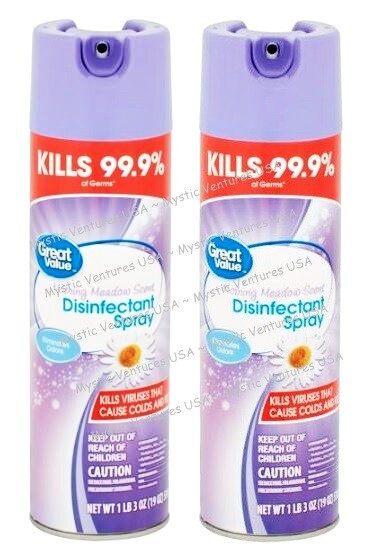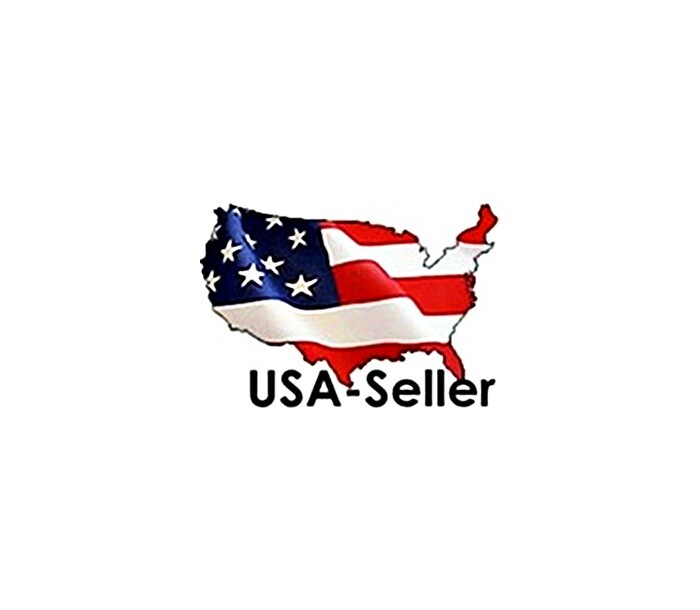 PLEASE MAKE SURE THE ADDRESS IS CORRECT,
It is against ebay/paypal policy for sellers to change the address, and ebay charges a NON REFUNDABLE, PER TRANSACTION FEE to sellers when buyers pay. For these reasons, and the fact that we often start processing or even ship with-in minutes, we DO NOT accept order cancellation REQUESTS once orders are placed/paid.
This listing is for
the item stated in the title and shown in the picture(s).
IN OUR HANDS WAITING TO SHIP TO YOU!
UNLIKE MANY, MANY EBAY SELLERS - *** WE DO NOT *** "DROP SHIP"
& PASS YOUR ORDER OFF TO SOMEONE ELSE THAT COULD CARE LESS ABOUT YOU OR YOUR PRODUCT GETTING TO YOU QUICK AND SAFE!
ONCE IT'S GONE, IT'S GONE!

As a close-out item, this item may have some sticker residue or minor shelf wear to the packaging from being in the retail environment,
but nothing that effects the quality of the actual item itself.

***ATTENTION EBAY TRUST AND SAFETY TEAM***
"PER EBAY TRUST AND SAFETY - SHIPMENT OF THIS ITEM WILL COMPLY WITH ALL USPS ORM-D REGULATIONS!"
Check our other listings for a lot more stuff that is household related!

Lets face it folks, you have plenty of options when it comes to buying your stuff. We just try our best to offer HONEST, FAIR, FAST & FRIENDLY service to our customers.
And remember,
FREE SHIPPING!

ALL items ship with tracking via ebay shipping, so the tracking number is uploaded directly to ebay.
We ship EVERYDAY Monday thru Friday.
Payment is expected with-in 48 hours of listing close.
ONLY UNOPENED/UNUSED PRODUCT (ALL TAGS ATTACHED) ALLOWED FOR RETURNS. Any refund that arises through no fault of our own, is minus all shipping costs to and from the buyer and a 20% restocking fee. We do not offer partial refunds. If an item should become 'lost' by the shipping carrier, we will not issue a refund until 15 days AFTER the last scan date by the carrier. We do not accept order cancellations once orders are placed/paid. By purchasing, you the buyer agree to these terms.