2 Smith & Wesson SD9 10 shot Magazine 19926 S&W also fits SW9VE SW9F Smith & Wesson 199260000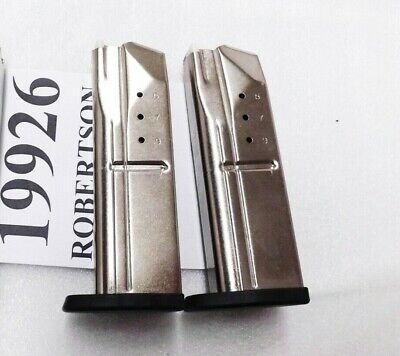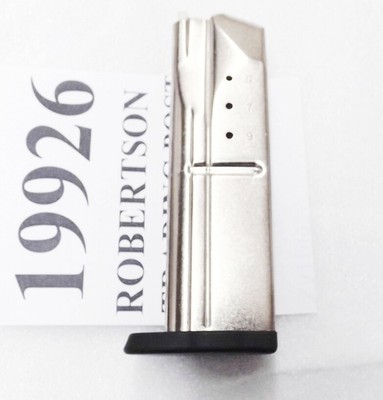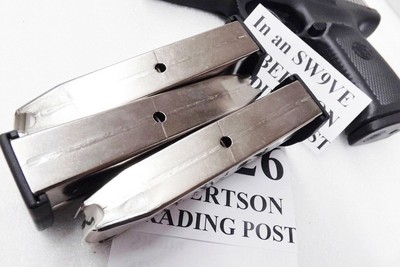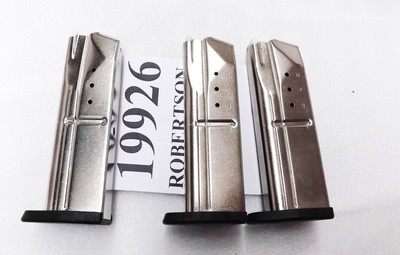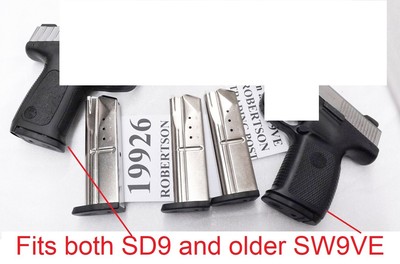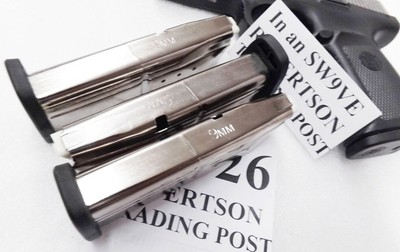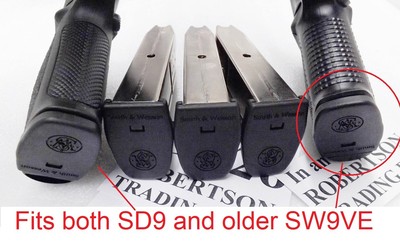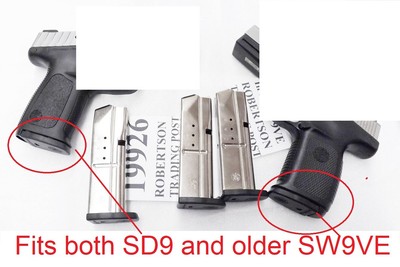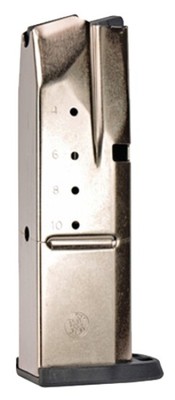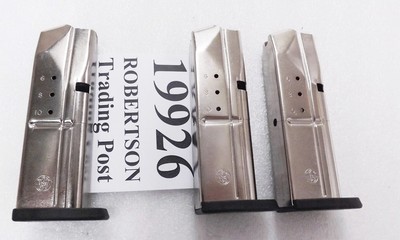 Характеристики
For Gun Make
Smith & Wesson SD9 Self Defense 9
Type
Double Stacked Steel Body Pistol Magazine
Country/Region of Manufacture
United States
California Prop 65 Warning
(California) WARNING: This product can expose you to chemicals including lead, which is known to the State of California to cause cancer and birth defects or other reproductive harm. For more information go to www.P65Warnings.ca.gov
Material/Finish
Stainless Steel Body & Polymer hardware
For Gun Model
SD9 also fits SW9VE SW9F SW9V
For Gun Type
SD9 (mis) fits SW9VE in a pinch.
NO NYC; CT Buyers please message us with a scan or photo of one of your state permits.
Two Smith & Wesson 9mm SD9 Pistols Factory 10 Round Ten shot Magazine NIB 19926 works well in SW9 SW9V SW9F SW9VE
This listing is for

TWO

magazines.

Here is Smith & Wesson's compliant factory issue magazine for its current production SD9, Self Defense 9, pistols that are chambered in 9mm caliber. It will also fit well enough, and work in, the models SW9, SW9F, SW9V, and SW9VE, even though its flat plate will not exactly match the grip frame of the older guns. It will NOT fit the SW9C Compact that used a single stack magazine and was constructed of pot metal. Manufacture, warrantor, and exclusive distributor is Smith & Wesson of Springfield, MA; and each magazine bears the factory S&W Logo. Construction is stainless steel body with round count ports and dressed seam welded back, steel spring and stop plate, with white polymer cartridge follower and black rounded polymer floor plate. Note the lateral dimpling on the 19926 that keeps it compliant with the laws in eBay's home state. Each magazine holds 10 rounds of 9mm Ammunition.

That is six fewer rounds than the 19925 Standard magazine.

Replacement pricing is $49.82 on smith-wesson com. We're offering these new stainless magazines in lots of two, however, for only

$ 78.00.

Not for sale to residents of New York City. Connecticut Buyers please message us with a scan or photo of one of your state permits, or federal firearms license.
Any 3 items besides long gun barrels, swords, and gun cases ship free lower 48
Payment
Shipping
$4 Lower 48 First Class Mail; $10 Priority to AK HI PR.
Buy 3 Ships Free: Combine any 3 of our items, and get free shipping. Lower 48 only, excludes long gun barrels and gun cases.
$4 lower 48 on 1 or 2 items.
$10 combined shipping to Ak, HI and PR no matter how much you buy, excludes long gun barrels, swords and gun cases.
Other
15% Restocking fee for any returns on this new item.

No magazine sales outside the US, includes not so cleverly disguised forwarding facilities in Detroit, Niagara, or Doral Florida.

Robertson Trading Post, Henderson, Tennessee, in Elvis land since 1952, 90 miles east of Memphis, and 75 miles north of Tupelo.