2Pcs Corner Shower Caddy Shelf No Drilling Organizer For Bathroom Toilet Kitchen NewHome Does not apply
Характеристики
Item Height
As picture show
Item Length
As picture show
Item Weight
As picture show
Material
Plastic, Space 6063 Aluminum
Max Load Bearing
10kg/22lbs Per Tier
Per Tier Shelf Size
28x20.5x3.1cm/11x8.07x1.22in
Per Tier Shelf Weight
109g/0.24lbs

2Pcs Corner Shower Caddy Shelf No Drilling Organizer For Bathroom Toilet Kitchen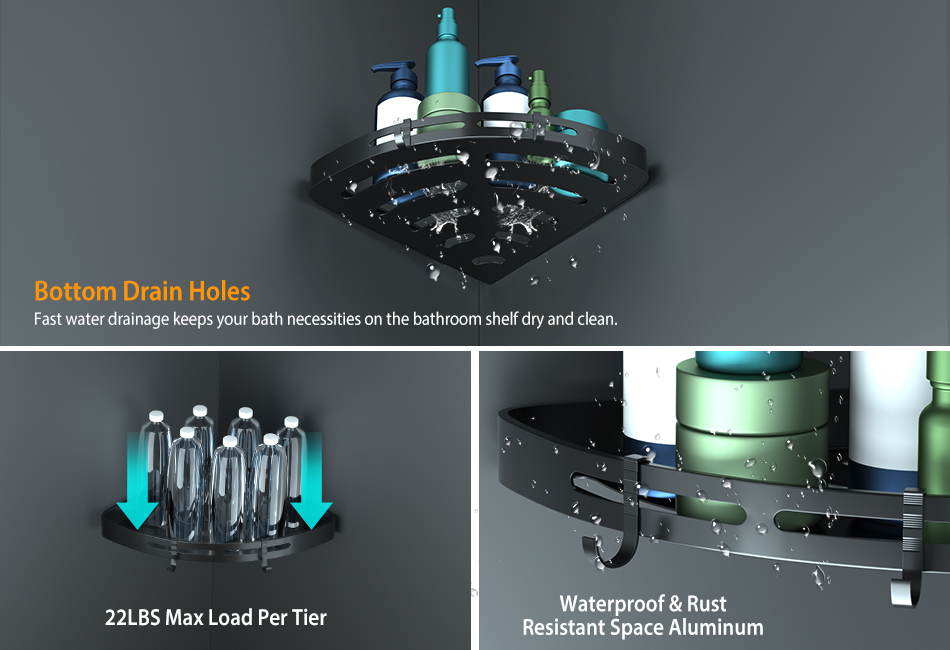 Product Detail Image Gallery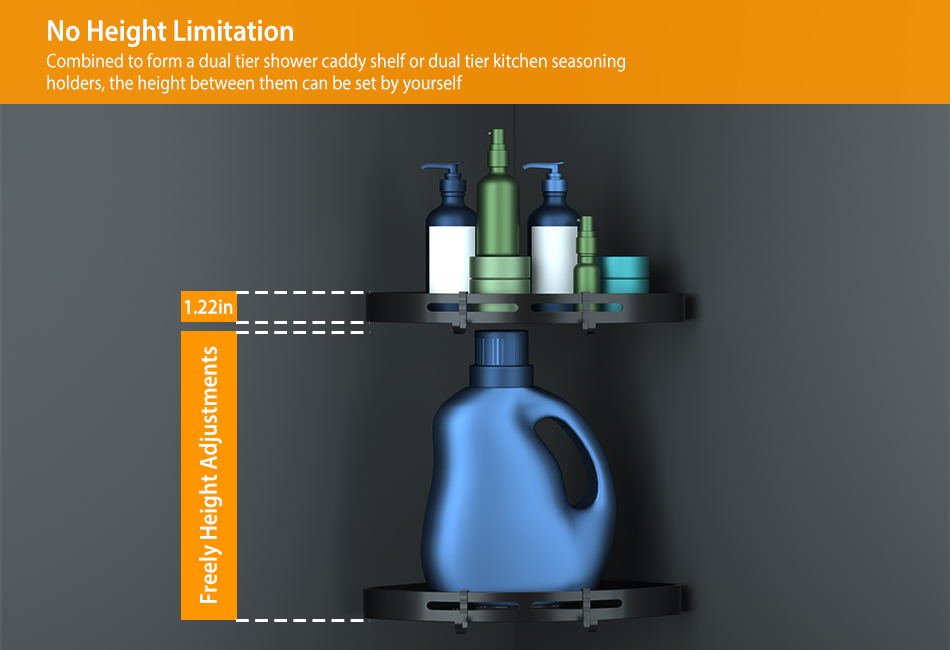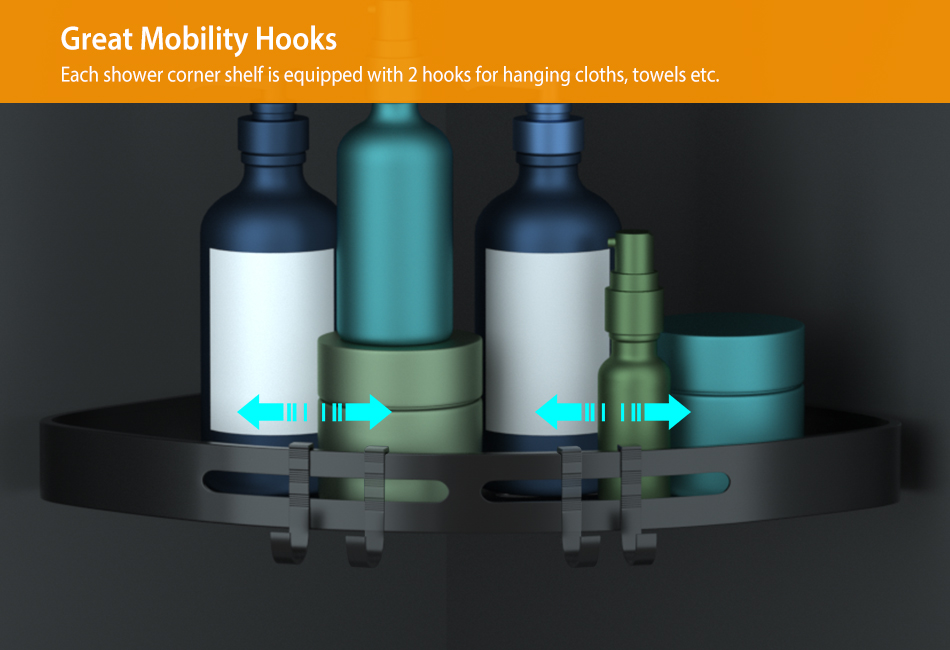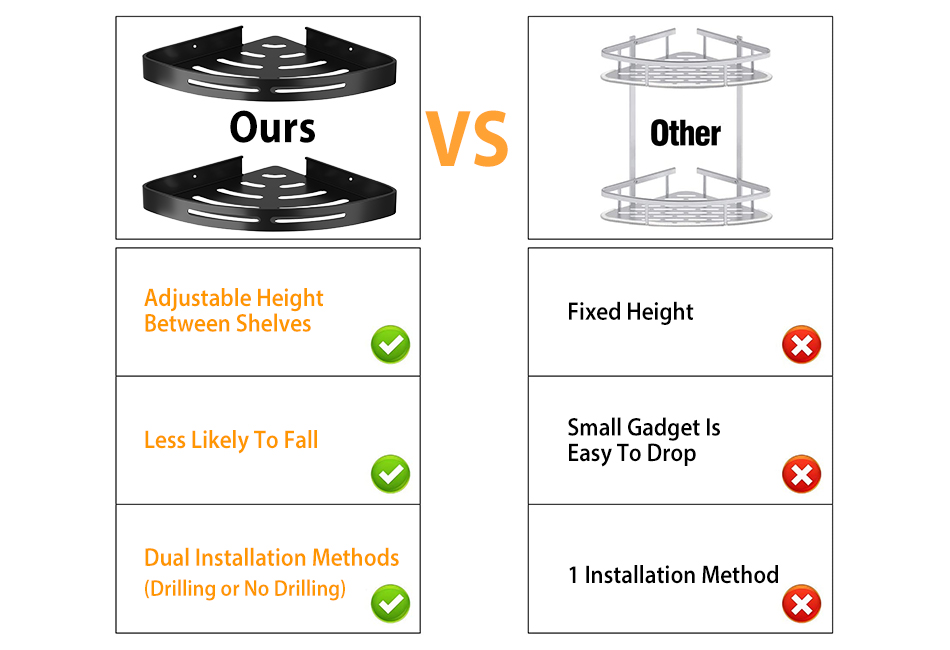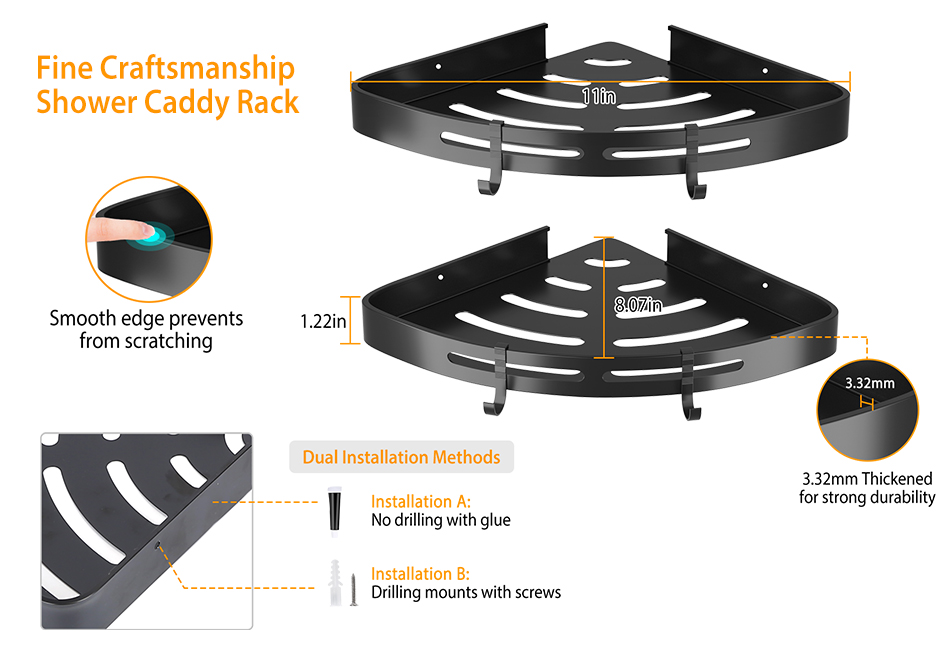 Product Description
Overview:When you rented apartment and your landlord says No Drilling on the wall, but your bathroom was totally a mess. Then you need our caddy shelf. The size of the shower rack is 11 x 8.07 inches, it can store all your soap, shampoos, and toiletries in neat, help you create a tidy and elegant bathroom. 1.22inch High guard rail keeps your toiletries from falling. Polished edges protect your hands from scratching. Fast drain is due to the hollow design. Adjust the height between two shelves according to your needs. Space aluminum material resists daily scratches, corrosion and tarnishing. Using the no-drill option with the powerful glue and waterproof self-adhesive stickers, it is firm to install on any smooth surface without damage for your bathroom walls. Great solution for your home neat and well organized.
Features:
*Space Saving Shower Shelf:These bathroom shelves are designed for organizing your space,ONLY for 90°corner. Small kinds of stuff remain in position while the larger bottles are able to stand upright,like shower gel,cosmetics,hair conditioner and more. Each shower corner shelf is equipped with 2 hooks for hanging cloths,towels etc..


*Hallow Carved Rack:This bathroom caddy is all space aluminum design,resists daily scratches,corrosion and tarnishing. The max load of per tier rack is 22lbs. Hollow and ventilated design makes water drain fast,keep your bath products on the bathroom shelf dry and clean.


*2 Installation Methods:The shower caddy comes with mounting hardware,you can install it once you received the package. Also,provide nail-free glue(adhesive sealant) to use on the smooth or rough surface. Please wait 72 hours before use after applying the adhesive sealant.


*Wide Applications:It is suitable for bathrooms,kitchens,RV,living rooms,and bedrooms,makes your family space use to the extreme,waterproof and rustproof,and the wall fence prevents items from falling. Smooth corners prevent hands from scratching when installing or fetching bath necessities.


*No Height Limitation:Separate and independent dual tier shelf,you can mount one on your bathroom and install one to the kitchen,or combined to form a dual tier shower caddy shelf or dual tier kitchen seasoning holders,the height between them can be set by yourself.
Friendly Reminder:
How to remove:If you need to remove the installed shelf,please heat the base by using Hairdryer,then use a snap-off knife to tear down the product. And then clean the leaving glue by using the knife.
Kindly please be advised on "No Drilling Method":a) ONLY stick shower caddy on smooth hard and flat surfaces. b) Please DON'T stick the shelf on painted walls or wallpapers as it will take off your paint or wallpapers.
Specifications:
Brand: NewHome
Product Type: Shower Caddy Shelf
Materials: Space 6063 Aluminum
Color: Black
Max Load Bearing: 10kg/22lbs Per Tier
Per Tier Shelf Size: 28x20.5x3.1cm/11x8.07x1.22in
Per Tier Shelf Weight: 109g/0.24lbs
Package Size: 29.3x22x4.5cm/11.54x8.66x1.78in
Package Weight: 345g/0.76lbs
Package Contents:
2x Shower Caddy Shelf
2Sheets x Auxiliary Stickers (1 Sheet Includes 2 Stickers)
2Bags x Screws
4x Mobile Side Hooks
2x Glues
1x User Manual
Terms & Conditions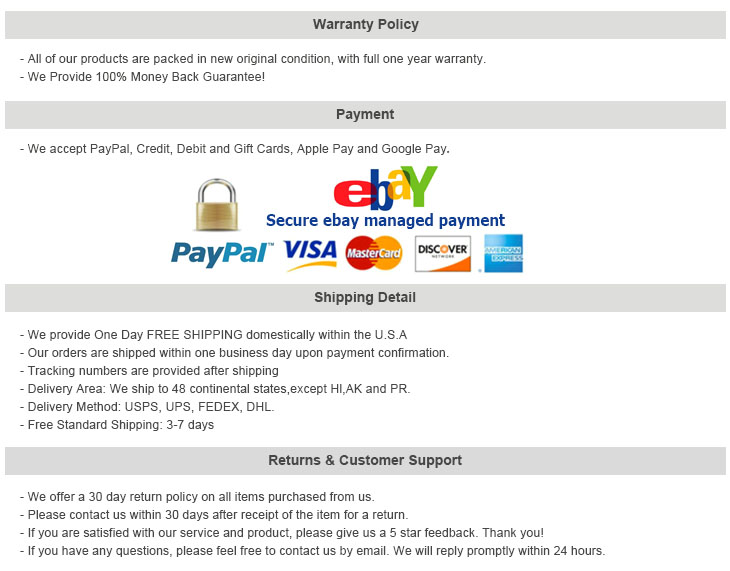 Thank you for your business !