BATMAN RETURNS 1992 TOPPS STADIUM CLUB CARDS: 2,4,5,6,7,10,12,13,14,15,16,17,20 Без бренда NONE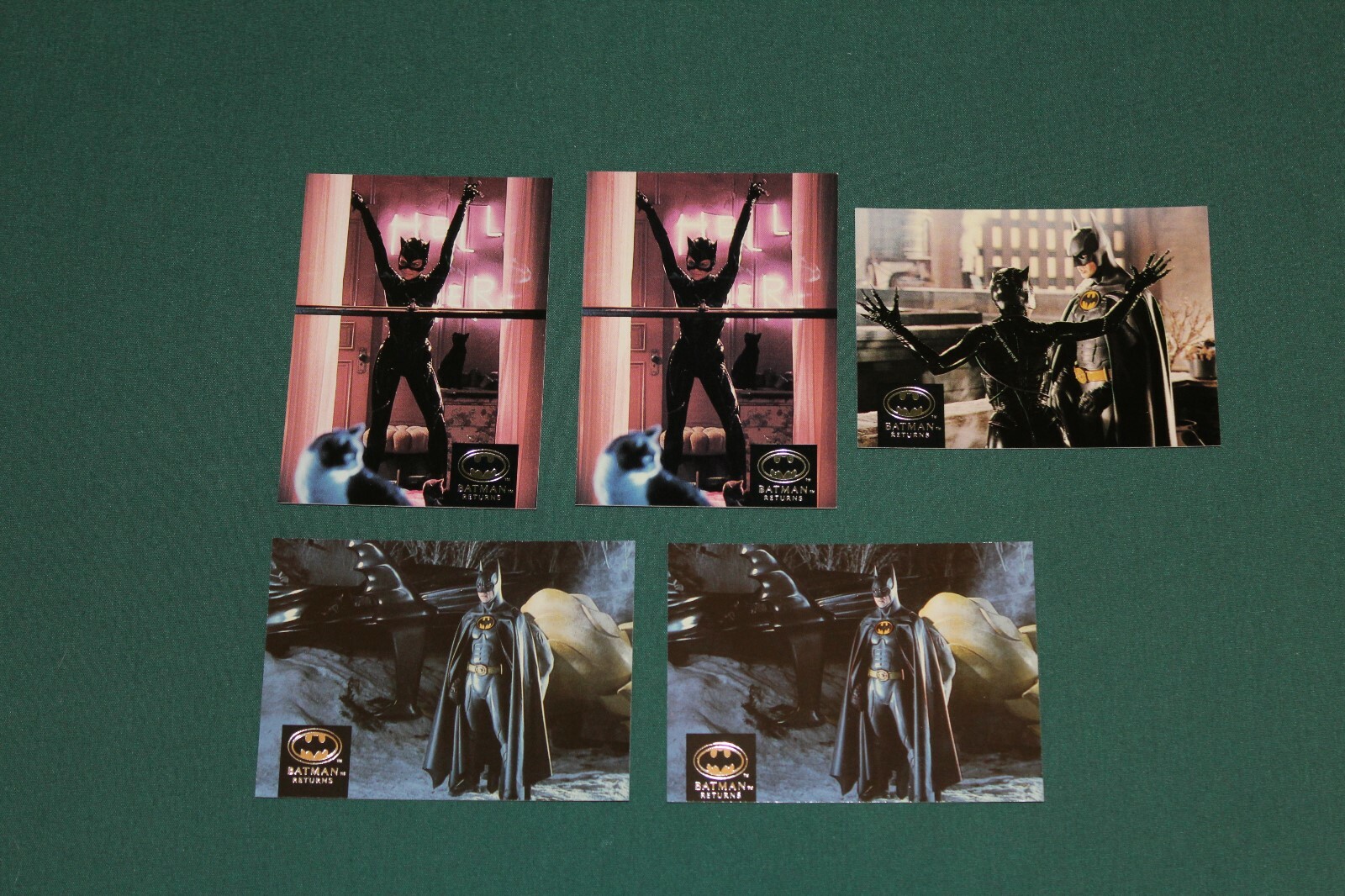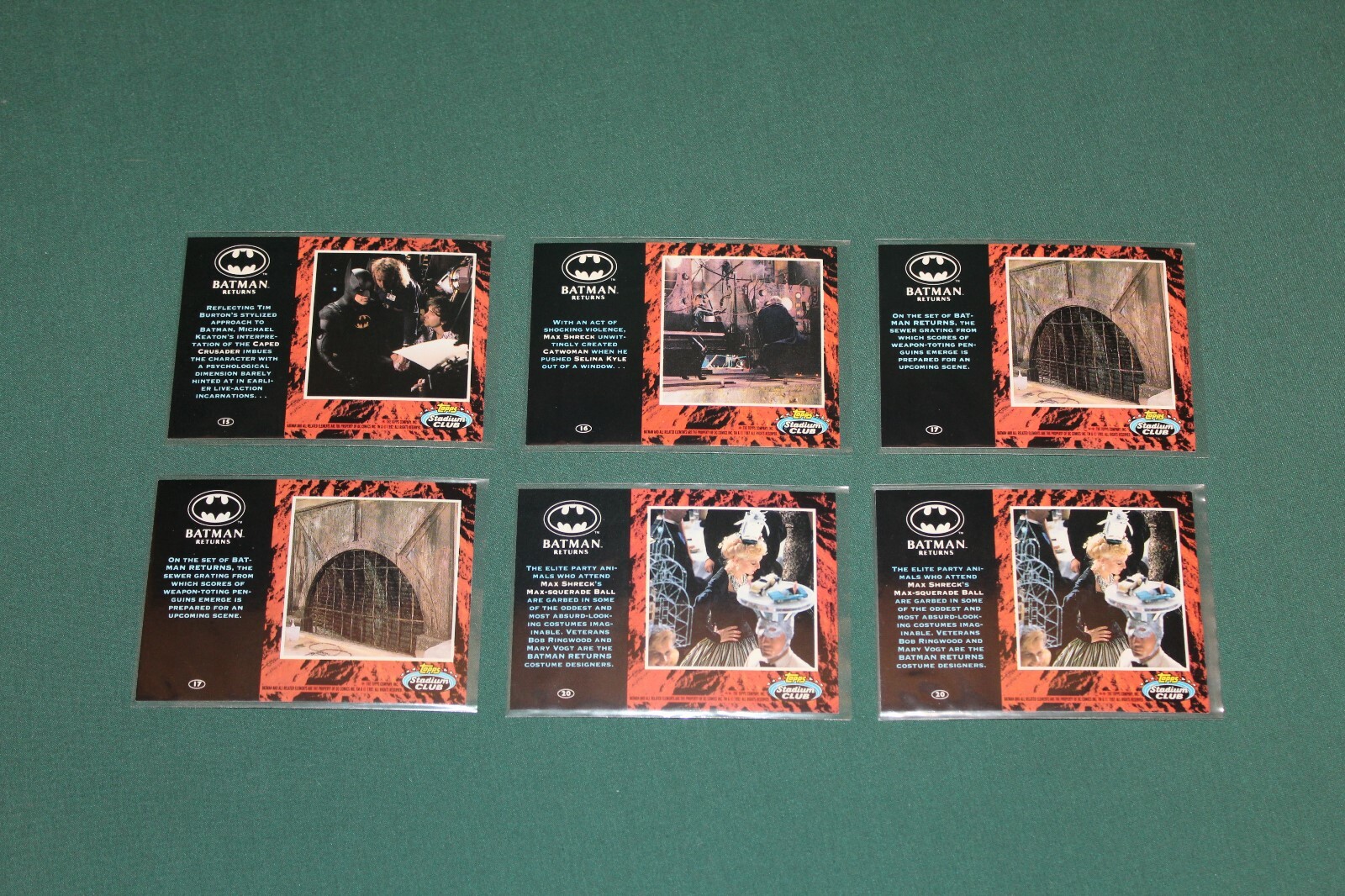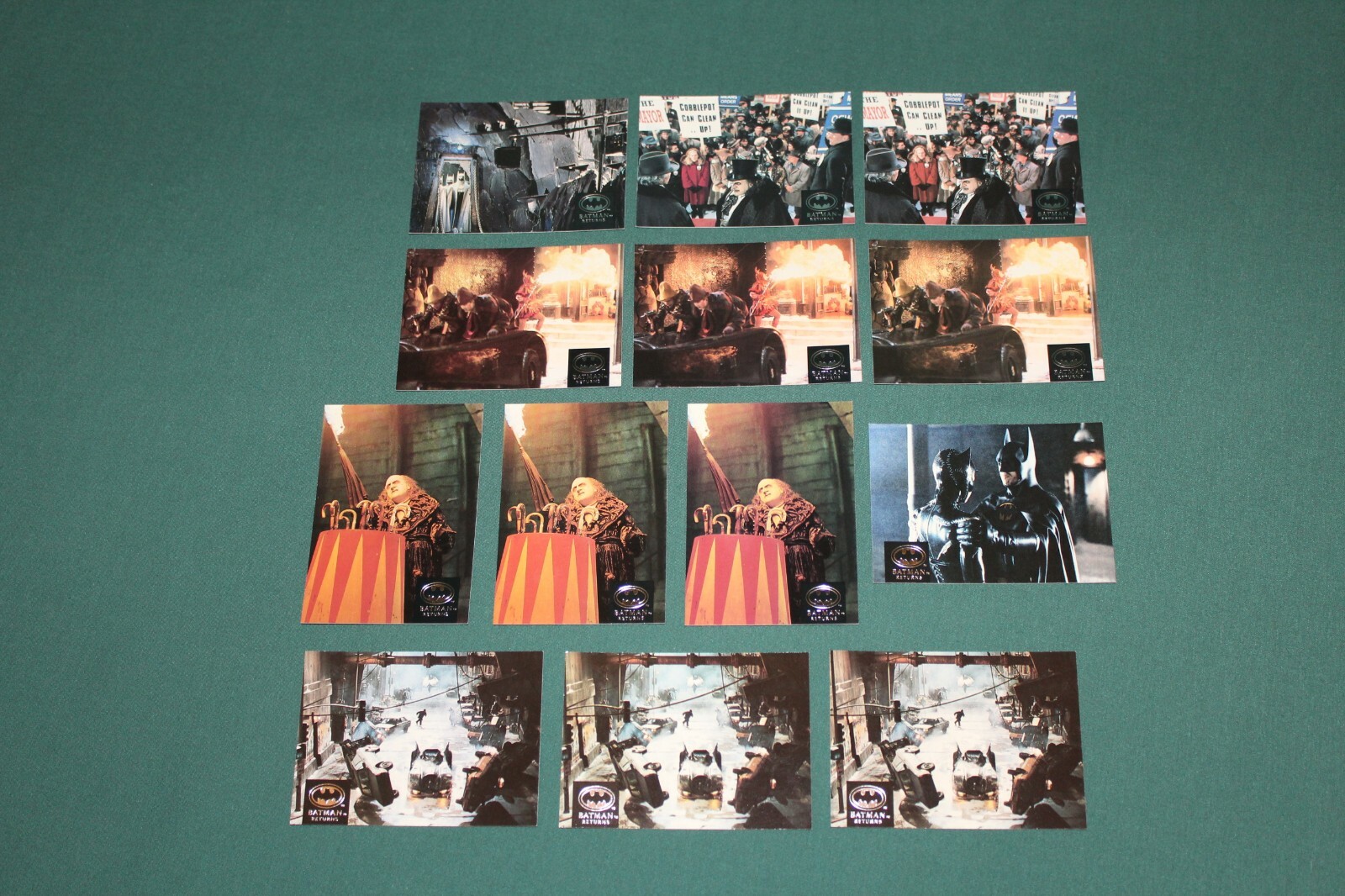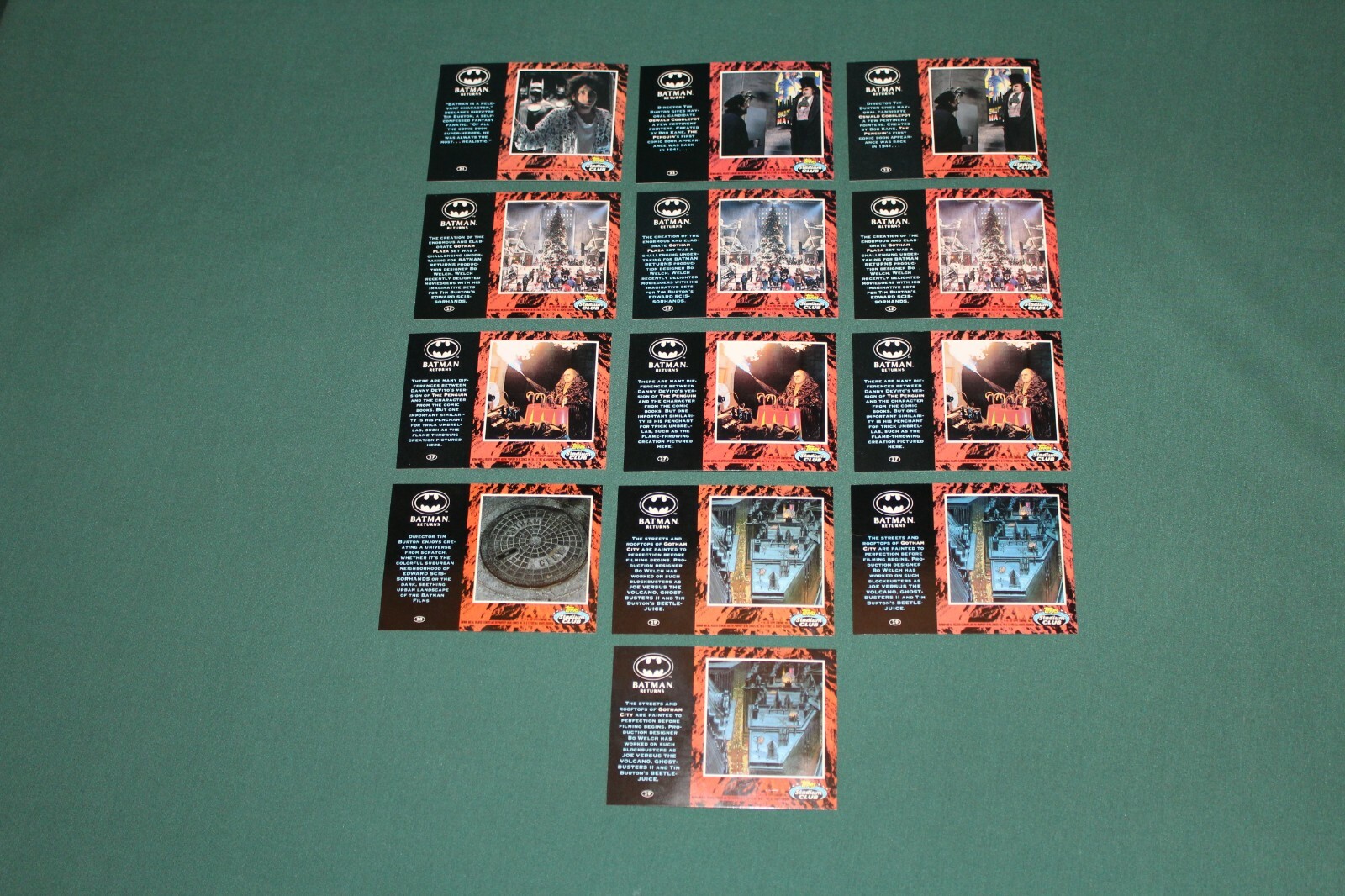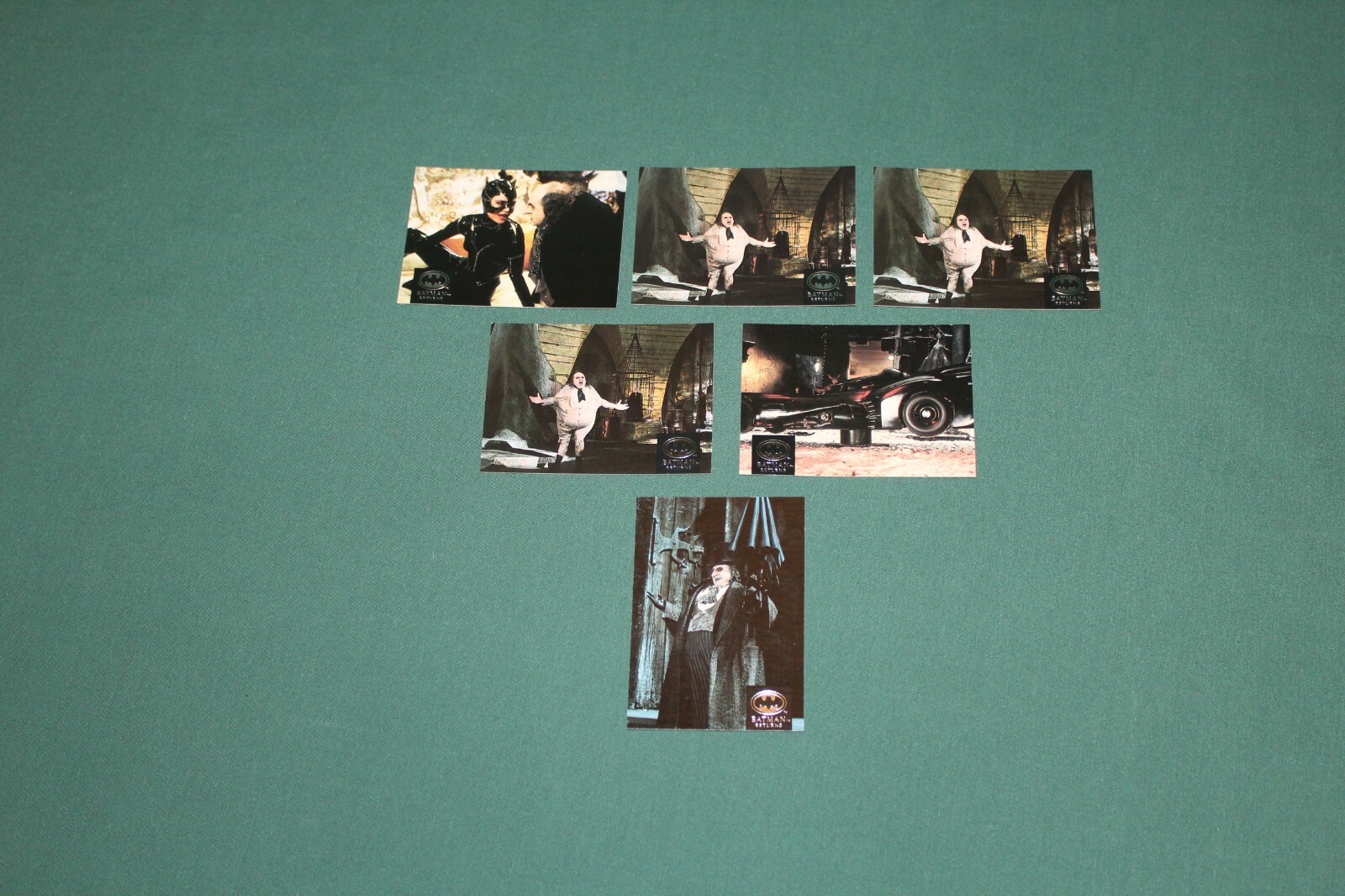 Бренд: Без бренда
Коротко о товаре:
FOIL BATMAN LOGO
1st Edition
Base Set
Характеристики
Set
Batman Returns Stadium Club
California Prop 65 Warning
NONE
Featured Artist/Actor
NONE
Series
1992 Topps Batman Returns
Professional Grader
OWNERS OPINION
Country/Region of Manufacture
United States
Authentication Number
NONE
Autograph Authentication Number
NONE
Genre
VILLAINS, Action, Adventure, Crime, Superhero
Type
Non-Sport Trading Card
BATMAN RETURNS
1992 TOPPS STADIUM CLUB
This is an auction lot for
49 BATMAN RETURNS MINT SINGLE trading cards. I am the original owner, each of these cards will be inserted into a penny sleeve for their protection. The sides and edges are very sharp and clean. The colors are still very glossy and bright. All of the trading cards lay very flat and show no signs of ware. The list below will be the cards for this auction, please note that some cards may have a bracket with a number inside, these will be duplicate cards for that card number.
The shipment of these cards will be sent out using
USPS FIRST CLASS PKG
with
TRACKING
.
If you have any questions please send them to me before you place your bid.
Own these beautiful
MINT
cards before they get away from you at a very reasonable price per card.
Seller's note: I take extreme measures when I pack my auctions, I want you to have these trading cards in the same condition.
BATMAN SINGLE CARD LIST :
#2 DIRECTOR TIM BURTON #4 MICHAEL KEATON (3) #5 TIM BURTON (4) #6 MICHELLE PFEIFFER #7 ALFRED PENNY-WORTH (2)
#10 MICHAEL KEATON (2) #12 ONCE A SUBMISSIVE SECRETARY #13 CATWOMAN (2) #14 DANNY DEVITO (2)
#15 REFLECTING TIM BURTON #16 MAX SHRECK #17 ON THE SET OF BATMAN (2) #20 MAX-SQUERADE BALL (2)
#21 BATMAN IS A RELEVANT CHARACTER #22 TIM BURTON (2) #25 THE CREATOR (3) #27 THERE ARE MANY DIFFERENCES (3)
#28 DIRECTOR TIM BURTON ENJOYS #29 THE STREETS & ROOFTOPS (3) #30 RAISED IN THE SUBURBAN
#31 JUST AS BATMAN/BATCAVE (3) #32 MOST OF THE CHARACTERS #33 WITH HIS PORTRAYAL #36 IT WAS A PARTNERSHIP (2)
#37 UNLIKE HER COUNTERPART (3) #39 ADJUSTMENTS ARE MADE
PLEASE READ ALL OF THE BELOW INFORMATION:
I offer a 1 business day handling time with this order.
PAYMENTS:
As listed for this auction, please pay within 24 hours of auction ending.
SHIPPING TIME: Is from 3 business days to 5 business days depending on your location, current weather conditions and current mail processing.
SHIPPING DELIVERY: Shipment will be under USPS FIRST CLASS PKG using a KRAFT padded envelope with a self sealing flap with additional inside protection. I do not ship out of the USA.
SHIPPING PROCEDURES: The trading cards will be shipped within 24 hours after full payment is posted. Exclusion to this will be HOLIDAYS and WEEKENDS. I will notify you by email when your package has been delivered to the post office.
PRODUCT DESCRIPTION: Any flaws or damages to the trading cards will be reported in the description field to the best of my knowledge.
PAYMENT: If payment is not made nor contacting me after the 2nd day, then an AUTOMATIC unpaid item case will be opened by eBay.
RETURNS: I accept returns within 14 days. Return shipping postage will be your cost. The trading cards must be in the same condition as sent to you. Packed in the same manner, shipped using USPS FIRST CLASS PKG with tracking.
Don't forget to check out my other auctions going on at this time. Remember to add me to your favorite list so that you can keep up with the new items being listed.
Thank you for looking.