Blue Corded Foam Ear Plug, Box of 100, 32 Nrr - EP-253 Elvex EP-253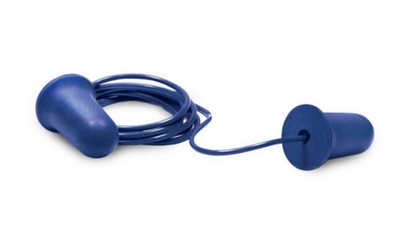 Product Description
New generation Elvex Blue, foam ear plugs with easier insertion and better noise reduction-32 NRR! EP-253. Today's hearing protection users demand a high level of comfort, excellent noise reduction properties as well as ease of insertion. Elvex Blue offers all that and more. Safety and health professionals demand a foam ear plug which is easy to administer and offers a high level of hygiene. They also require a plug which provides excellent attenuation, is visually easy to monitor as well as meets with employee acceptance. Elvex Blue satisfies all these demands and more. One size fits all! The dimensions of Elvex Blue allow virtually every ear canal to be fitted correctly. High visibility color makes it easy to monitor and enforce proper ear plug usage. Multilingual Packaging, English, Spanish and Chinese, assures that proper usage information is available where the plugs are dispensed. EP-253.
We want to ensure that all of our buyers are offered all the benefits that eBay has to offer. In order to ensure that you qualify for eBay Buyer Protection, we only accept payment through PayPal.
Paypal also allows you to complete your purchase quickly and securely. It offers a variety of payment options including all the major card carriers. In order to ensure that all of our customers have equal access to our inventory, we require immediate payment after purchase.
We accept payments only through PayPal.
We send goods to the address registered in your account.
All packages will send within 2-3 days after purchase and payment of goods.
Delivery will be executed by economic mail including the tracking number and an insurance.
After sending your goods we will send you the letter with the tracking number.
Probably delivery will take less time, but we consider holidays or days off.
If you don't receive item, please, contact us.
We strive for the highest possible consumer satisfaction. If you have a problem, please contact us so that we can help. We have been in business since 1999. We are excited that you have shown interest in our company.