Ceramic decals for borders Delft pattern lot of 90 Color Brite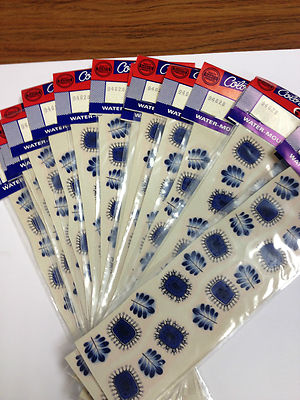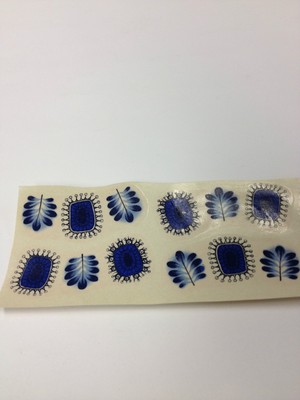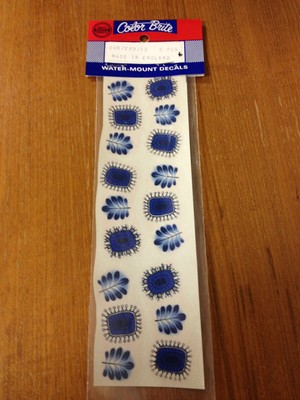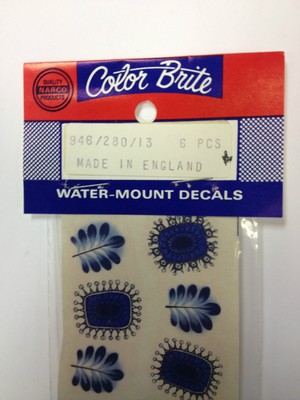 Watermount decals 15 sheets of 6 sets (with 3 images in a set)
Three dark Delft blue designs constitute a set. There are six sets(of 3) on a sheet (18 each of 7/8 inch x 3/4 inch patterns) . Each set of 3 is curved and measures 2-1/4 inches in length. You are bidding on 15 identical sheets so you will receive 90 decals. The Dutch Delft patterns are bold and vintage style. The decals are great for borders on ceramics and may be used on light colors as well as white gloss type hobby glazes with equal success. However, it is advisible to make a small test firing first to be sure your glaze is compatible.
Please Note: These decals have a Clear Overcoat & can be used without kiln firing if they are sealed with a clear protective coating.
Water Mount - Kiln Fire To Cone 018

For Decorative Purposes Only (NOT FOOD SAFE)
Instructions included
This offer is for 15 pkgs of 6 sets (total 90 sets of 3)
Shipping, Handling & Insurance is FREE within the contiguous U.S. Bidders from Canada, Hawaii, Alaska and Puerto Rico contact us for shipping rates prior to bidding and please include your postal code. Canadian orders are shipped via the U.S. postal service unless otherwise requested. Shipments can take 2-3 weeks for delivery. We do not ship to P.O. box numbers.
WE MAKE ORDERING EASY:
Just use Ebay's checkout at the end of the auction.

We prefer PayPal but also accept Visa, Discover, Master Card.

If you need to call us go to our Ebay store (click below) for our phone number and hours of operation.

When corresponding with us please be sure to give us the item number and your user I.D. name.