Crystal Journey Reiki Charged Candle - Herbal Magic Pillar - Free Shipping! Crystal Journey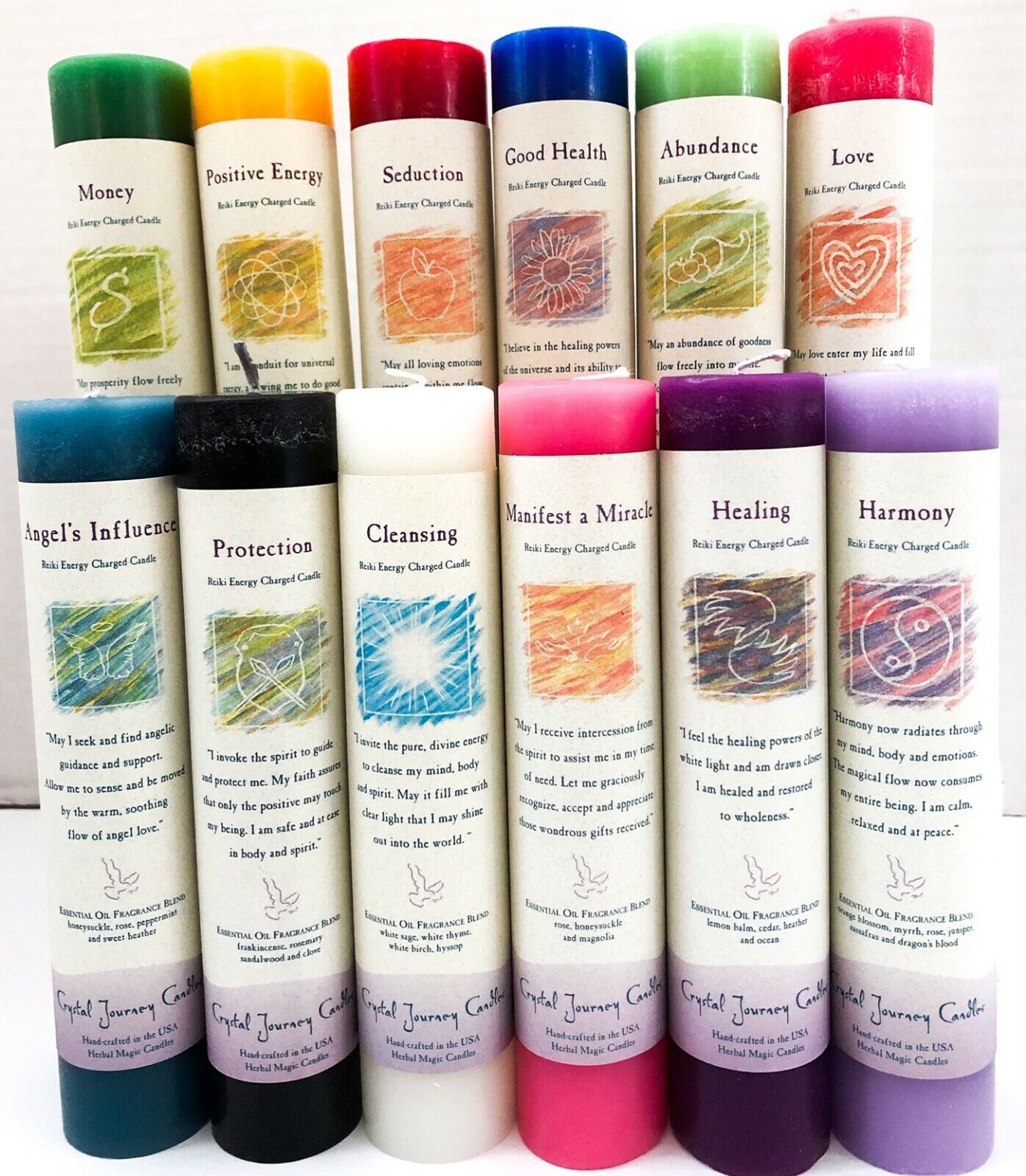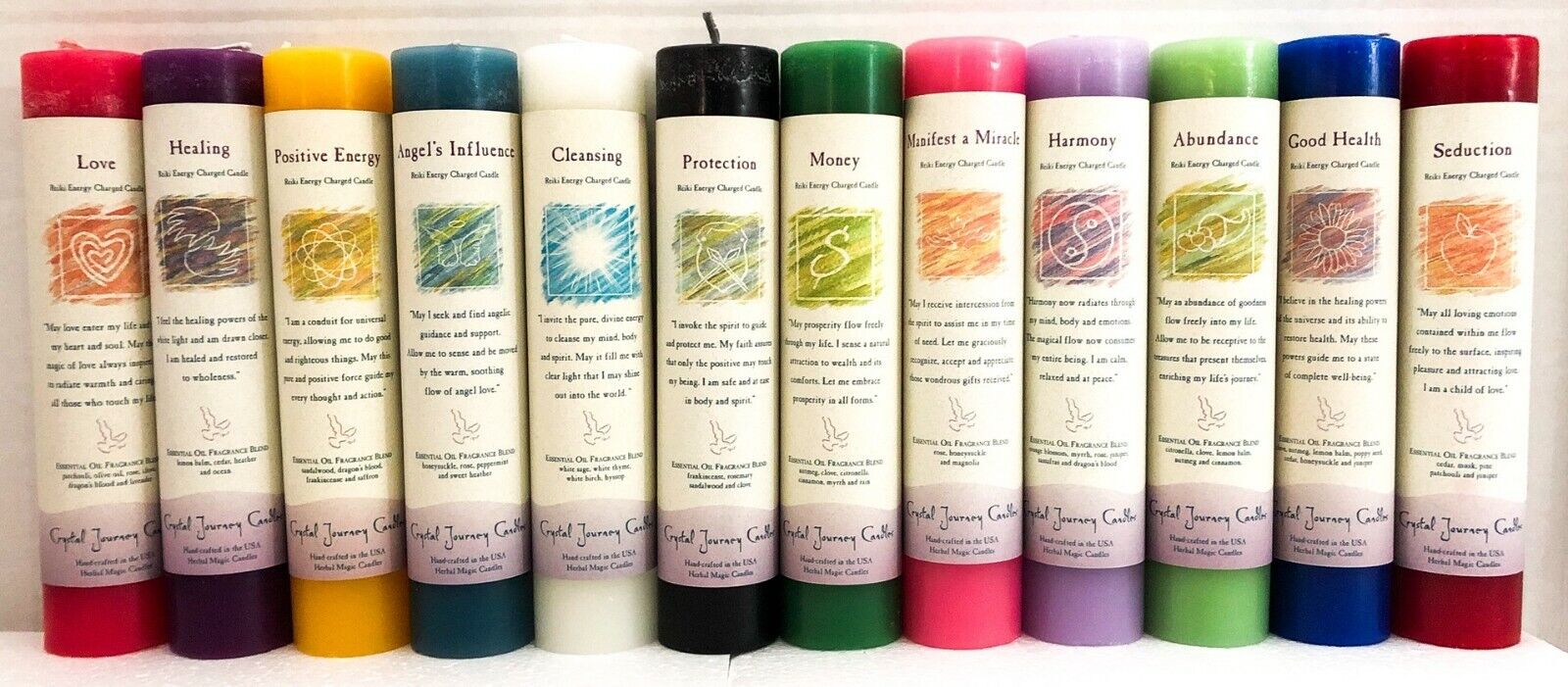 Soothing Treasures
At Soothing Treasures, we strive to bring to you the best products for fine living at the most competitive prices.
What you will receive:
Crystal Journey 1.5 inch x 7 inch Pillar Candle of the Fragrance of your choice.
Product Description:
Crystal Journey scented candles are hand crafted in the U.S.A. at a factory in Connecticut. All products are made from the finest waxes and purest blends of essential oils. The wicks are made from paper and cotton only.
All Crystal Journey
candles are hand poured using the finest wax and an exotic blend of essential oils. The strong scent and colorful appearance of these candles are entrancing. All of these factors create a better candle with an unique character.
All Crystal Journey candles are made with LEAD-FREE materials.
Each magic candle has been designed with a specific intention using a unique blend of essential oils by Crystal Journey. Each candle comes with an affirmation and inspirational message.
We offer the following choice of fragrances of these herbal magic pillar candles:
ABUNDANCE: Clove, Citronella, Lemon Balm, Cinnamon, Nutmeg
ANGEL'S INFLUENCE: Honeysuckle, Sweet Heather, Rose, Peppermint
BLACK CAT: Clove
CLEANSING: White Sage, White Thyme, White Birch, Hyssop
COURAGE: Grapefruit, Pine, Rosemary
DREAMS: Lavender, Rosemary, Ylang Ylang
GOOD HEALTH: Clove, Nutmeg, Lemon Balm, Poppy Seed, Cedar, Honeysuckle, Juniper
HARMONY: Orange Blossom, Rose, Sassafras, Juniper, Myrrh, Dragon's Blood
HEALING: Cedar, Ocean, Lemon Balm, Heather
JOY: Plumeria, Jasmine, Sandalwood
LOVE: Olive Oil, Patchouli, Rose, Clove, Lavender, Dragon's Blood
MANIFEST A MIRACLE: Magnolia, Honeysuckle, Rose
MONEY: Clove, Cinnamon, Nutmeg, Myrrh, Citronella, Rain
POSITIVE ENERGY: Frankincense, Dragon's Blood, Sandalwood, Saffron
POWER: Clove, Musk, Patchouli
PROTECTION: Frankincense, Sandalwood, Rosemary, Clove
SEDUCTION: Musk, Patchouli, Pine, Cedar, Juniper
Storage Instructions:
Caution:
Keep candles out of reach of children.
Use stable, heat resistant candle holders.
Never leave burning candles unattended.
Not for human consumption & not tested on animals.
Domestic US Shipping:
Shipping is always FAST & FREE! Your item will ship 'Next Business Day' after payment is received.
Returns:
We offer a full 30 day return period on all items purchased. Return shipping costs are the responsibility of the buyer. The item returned must be unopened and unused and in same condition as purchased.

Feedback:
Once you receive your item, please leave us a five-star feedback and review. If, for any reason, you are not completely satisfied with your purchase, please contact us by email before leaving any negative feedback. We aim to satisfy all our customers 100 %.