Custom Name Removable Art Vinyl Wall Decal Sticker Decor Baby Room Nursery Oracal Does Not Apply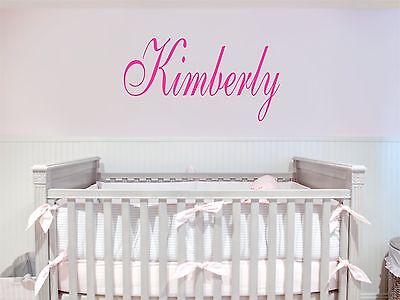 Характеристики
Theme
Houses & Architecture
Country/Region of Manufacture
United States
Custom Name Removable Art Vinyl Wall Decal Sticker Décor Baby Room Nursery
- 1 Individual Removable Wall Decal

- All names are fitted to an approximate size of 12" x 23"

- No Background
- For Name and Color: Please send a quick email or leave a note when purchasing this item via paypal specifying your Name and preferred decal Color.
How To Apply Your Wall Decal
Step 1. Completely clean and dry the desired application surface.
Step 2. Carefully peel the backing paper from the decal at a sharp angle.
Step 3. Align the decal and press it onto the desired surface. Firmly run a credit card across the transfer tape to make sure the decal adheres to the surface.
Step 4. Slowly peel the transfer tape from the top of the decal. If any part of the decal starts to come up with the tape, run over that part of the decal with a credit card and try to peel the tape again.
- These vinyl decals can be applied to most non-porous smooth or semi-smooth wall surfaces.
How To Remove Your Wall Decal
Using a hairdryer, gently heat up the decal to loosen the vinyl from the wall while peeling the decal away.
Please note - All wall types and paint finishes vary, so we can not guarantee that there will be no damage upon removal.
Questions?
E-mail for custom designs! Quality vinyl, various sizing, multi-colored designs for all applications!