FADNA IMMUNNI TEA - 100% Sri Lankan Natural Immunity increasing Herbal Green Tea Unbranded Does not apply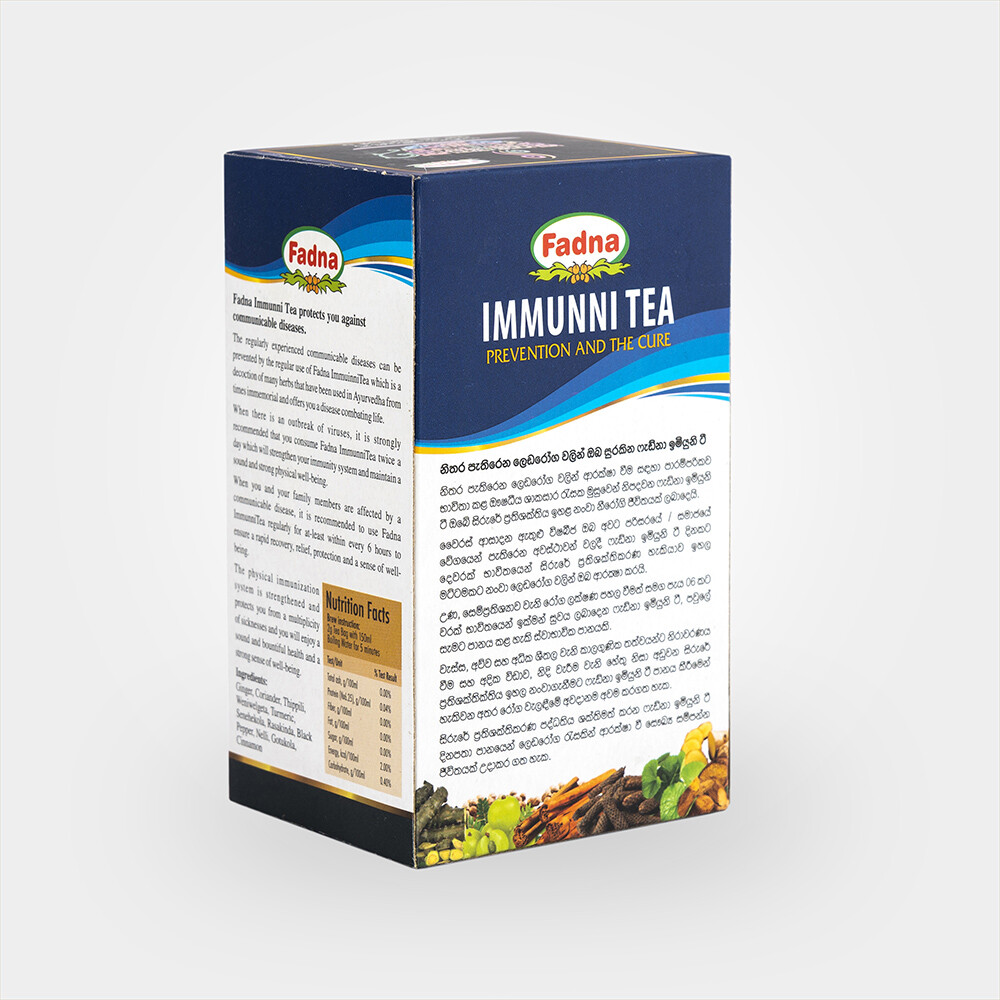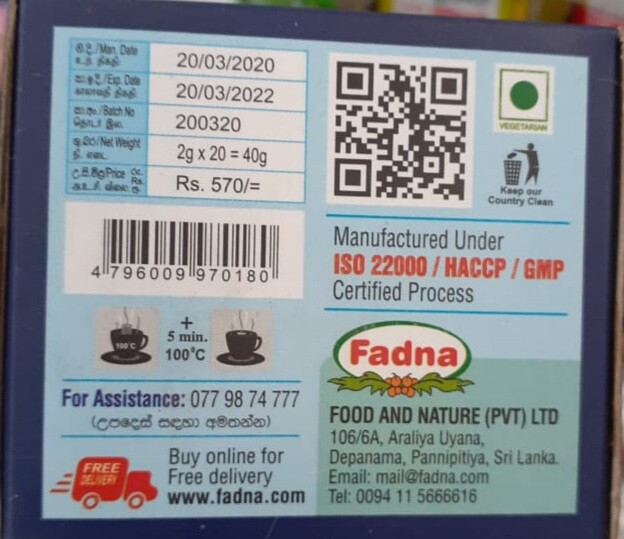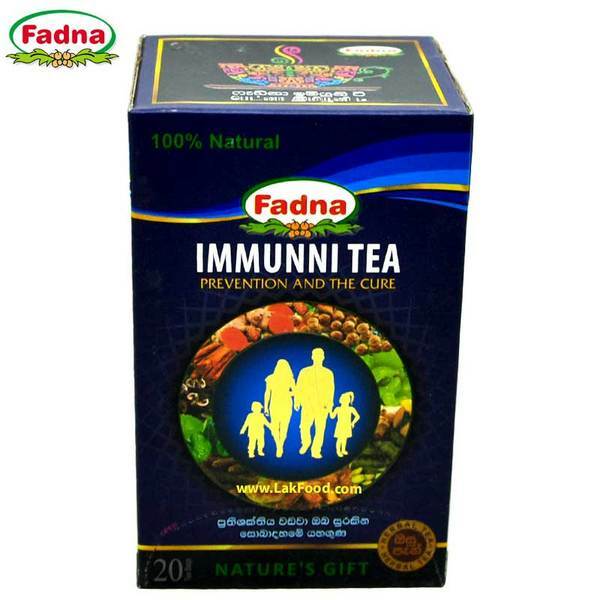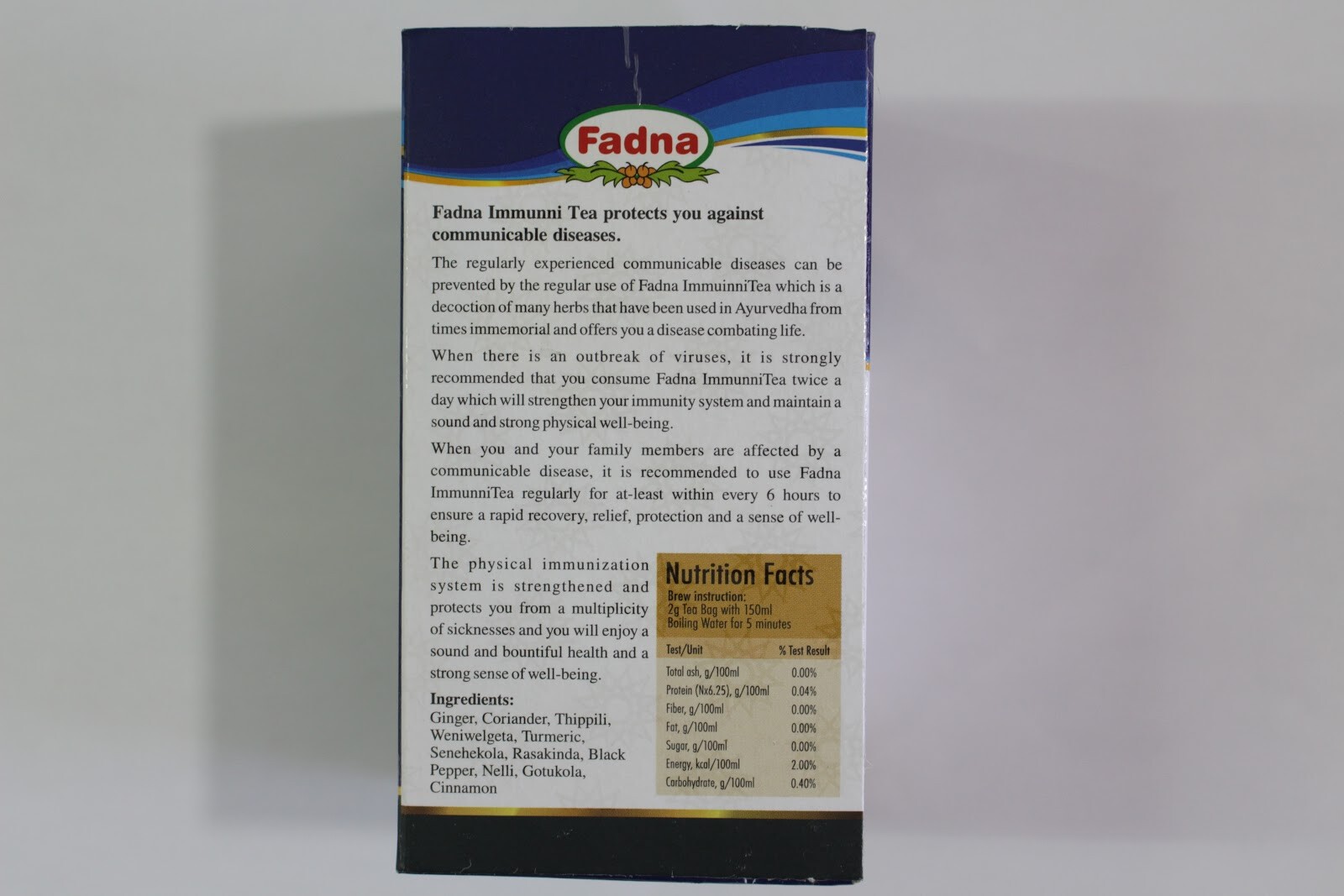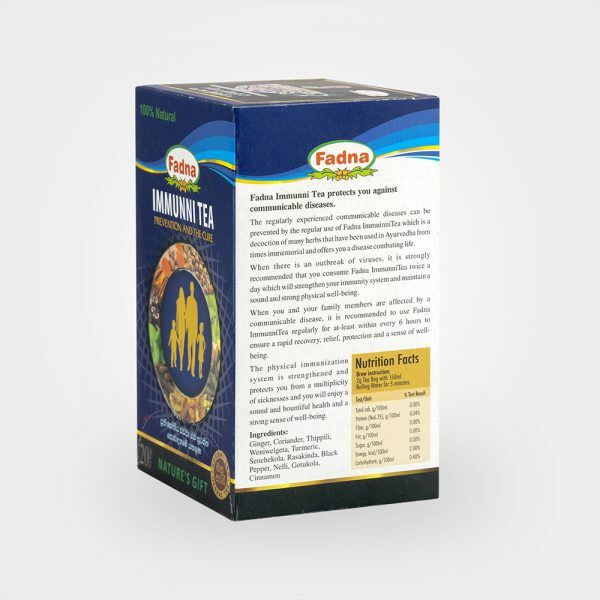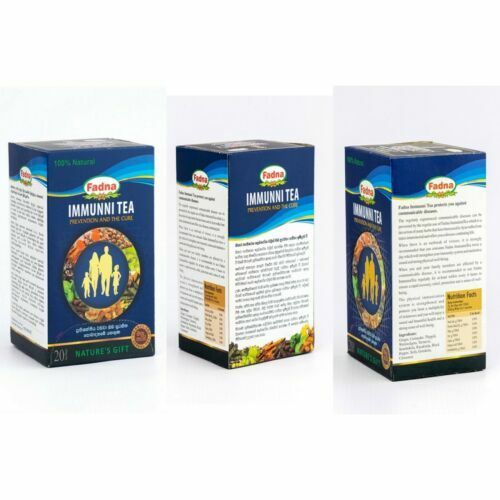 Характеристики
Food Specifications
Boost immune system, Lowers cholesterol
Expiration Date
20/03/2022
Ceylon 100% Herbal Tea - designed to strengthen the immune system
( A product of Sri Lanka ) 20 Herbal Tea bags
About Fadna Immunni Tea strengthen the body's immune system
" Immuni tea " contains a 100% herbal formula, used to strengthen the body's immune system and increase resistance against disease causing microbes, that could weaken our immunity; under stressful situations. This tea is ideal for consumption by both children and adults to strengthen one's immunity and live a healthy life, as it is approved by the 'Ayurveda Department' of Sri Lanka and is scientifically proven as a natural immune enhancer.
The health environment globally as well as in Sri Lanka is not very positive at present. Apart from the global threat of Corona and Influenza, the general public are also vulnerable to cold, cough and fever due to the weather conditions. Stress at work or sturdy and tiredness also make adults and children victims of such sicknesses, and reduce immunity.
Understanding the need for a solution that increases immunity at such conditions, FADNA, the herbal tea brand, launched their novel product IMMUNI TEA, tailor made to fight general diseases and increase immunity in the human body. This refreshing solution is 100% natural and is made of therapeutic herbs with the motive of boosting the immune system.
IMMUNI TEA will prevent the body getting infected by diseases, and its medicinal value will induce high immunity while working as a remedy from infections such as influenza, cold, fever,
cough and other viral infections.
It is advisable that FADNA IMMUNI TEA to be taken as a daily dose, many times as desired during the day and night. It will be liked by the entire family and family members will have the reassurance that their loved ones are protected from unnecessary viruses. This healing product that brings in multiple nutrients in multiple herbs can be widely obtained from pharmacies and supermarkets across the island. With the strong and rich herbal component, FADNA IMMUNI TEA certainly prepares the body to fight germs which would lead to enjoying a healthy life.
Key Benefits
● Boost immune system.
● Contains Vitamin, K, C, A and many other essential nutrients that can help fight common disease (i.e. cough, cold and flu) causing microbes.
● Cardo protective properties.
● Aid healthy digestion.
● Lowers cholesterol.
● Ease joint pains.
Payments Information...
1. We accept PayPal only.
2. Payment must be received within 3 days from the date of purchase.
​3. Orders will be processed instantly and dispatched on the same day normally.
Contact Us And Feedback….
Your positive feedback is extremely valuable to us. If you have any concerns about your order, please contact us through eBay message to resolve any issues before leaving a negative feedback or opening a dispute. We will reply within 2 business days (public holidays not included) and will try our best to resolve it.
Thank You !