HAWAII MAGNET ASSORTMENT 4 NEW STATE SOUVENIRS including ARTWOOD MAP Без бренда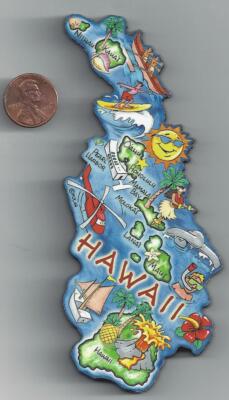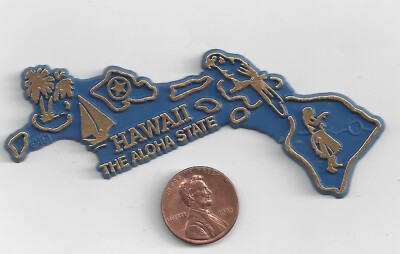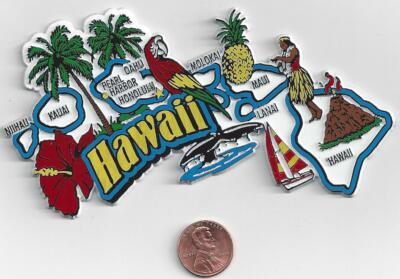 Характеристики
Type
Made in USA and Canada
SAVE -- YOUR COST OVER $20.00 IF PURCHASED INDIVIDUALLY.
YOU ARE BUYING ONE SET OF Four HAWAII SOUVENIR MAGNETS.
FREE SHIPPING TO USA ZIPS. ALL ARE NEW RIGHT OUT OF THE BOX FROM THE FACTORY.
EACH HAS FULL MAGNET BACK.

1. JUMBO FLEXIBLE plastic molded refrigerator style map magnet of the STATE OF HAWAII. A penny is shown for size comparison (not part of the sale). This state map magnet is part of a jumbo map series, about 5" long in six brilliant colors on a white background. Each magnet shows several favorite cities and icons of the tourist attraction areas. The 2-D design is all raised above the white background. They do not fit together for a puzzle. Some portions of the artwork extend beyond the map outline, so the magnets are not size proportionate to the other state magnets. Each state design was created for the tourist market.
2. ONE ARTWOOD MAGNET OF THE STATE OF HAWAII WHICH IS APPROX 5" WIDE AND ABOUT 1/4" THICK. Several major cities are shown as well as major highways. THESE MAGNETS ARE OF THE HIGHEST QUALITY, MANUFACTURED IN NORTH AMERICA. ALSO OUR MAGNETS ALL HAVE THE FULL MAGNETIZED BACK - UNLIKE THE AISIAN IMPORTS. NEVADA MAGNET ALSO SHOWN, NOT INCLUDED. EACH MAGNET IS DESIGNED SPECIFICALLY WITH THE HISTORIC OR TOURIST AREAS IN MIND. THEY ARE NOT TO SCALE AND DO NOT ALL FIT TOGETHER FOR A PUZZLE. MADE IN CANADA
3. Two-color gold on blue HAWAII map outline magnet, part of our 51 two-color map series. flexible refrigerator magnet, not to scale and they do not fit together for a puzzle. MADE IN USA. HAWAII - THE ALOHA STATE.
4. This STATE FACTS molded refrigerator style magnet of HAWAII is about 2 1/2" x 3" with raised art in six colors on white.These magnets give state information and also depict the state bird and flower. All 50 states plus D.C. in stock. MADE IN USA
LET US PUT TOGETHER YOUR MAGNET PACKAGE. MINIMUM ORDER REQUIRED.