Henry Cooper London Richard Dunn LOT auto autograph 2011 LEAF Foes of ALI signed Без бренда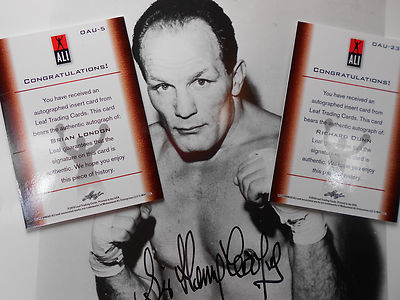 Характеристики
Original/Reprint
Original
Product
autograph pack insert coa on reverse
Card Attributes
Autograph
Henry Cooper Brian London Richard Dunn autograph signed autographed THE British are Coming! 2 2011 LEAF Foes of ALI factory certified cards and a guaranteed forever favorite son of England - Henry Cooper ....... boxing fans were in anguish throughout Great Britain in 1970 when young Joe Bugner eked out a 15 round decision over "'Our 'Enry" ..... Bugner had a very good career, even destroying Richard Dunn in 1 round after Dunn's 1976 title bout with Ali ...... but Henry Cooper was THE MAN across the Atlantic.
Combined shipping whenever possible, cards and photos .50 -.99 extra depending on value, as i may need to add signature confirmation and insurance, but i will do my best to give you a square deal on shipping.

I will get your item out to you as "lightning fast" as i can move my old bones.... but always inside 2 days.

I sell internationally only through Ebay Global Program, please check for associated shipping and value charges.

I do not sell preprints or copies, autographs are HAND SIGNED.