HUNCHBACK OF NOTRE DAME,COMPLETE SET 4 LTD.ED.DISNEY BRADEX PLATES 1996,NEW,MINT BRADEX CHINA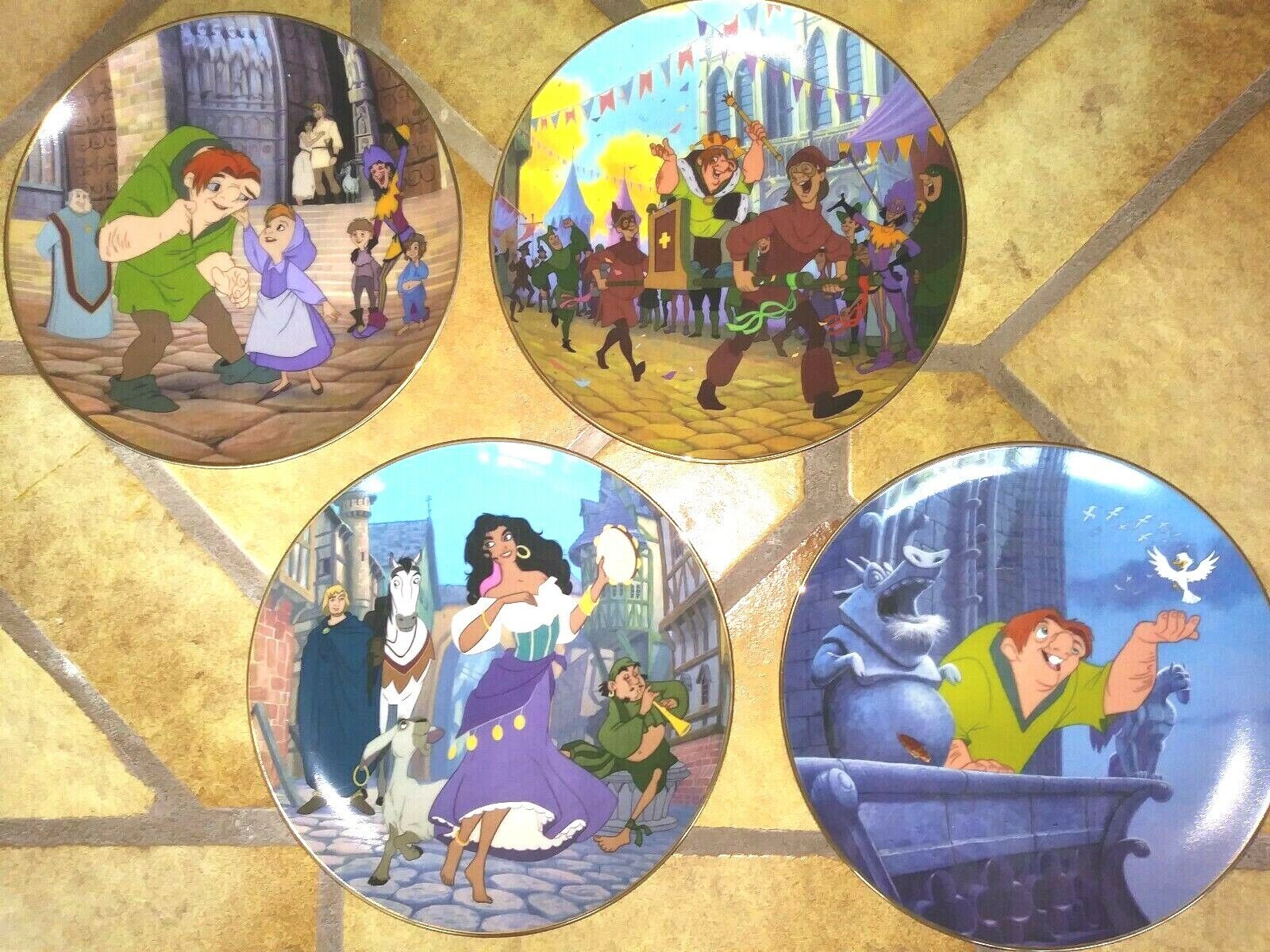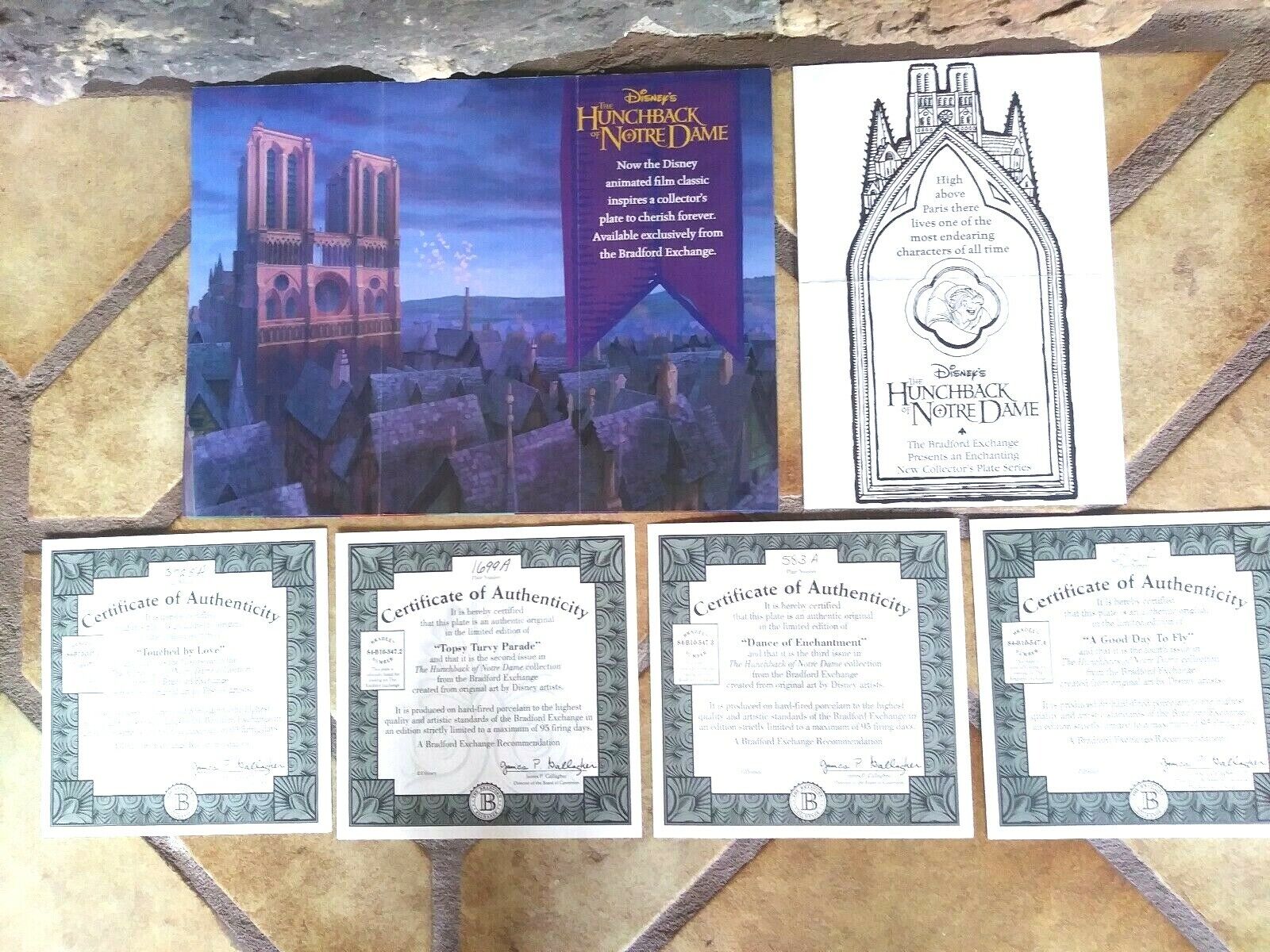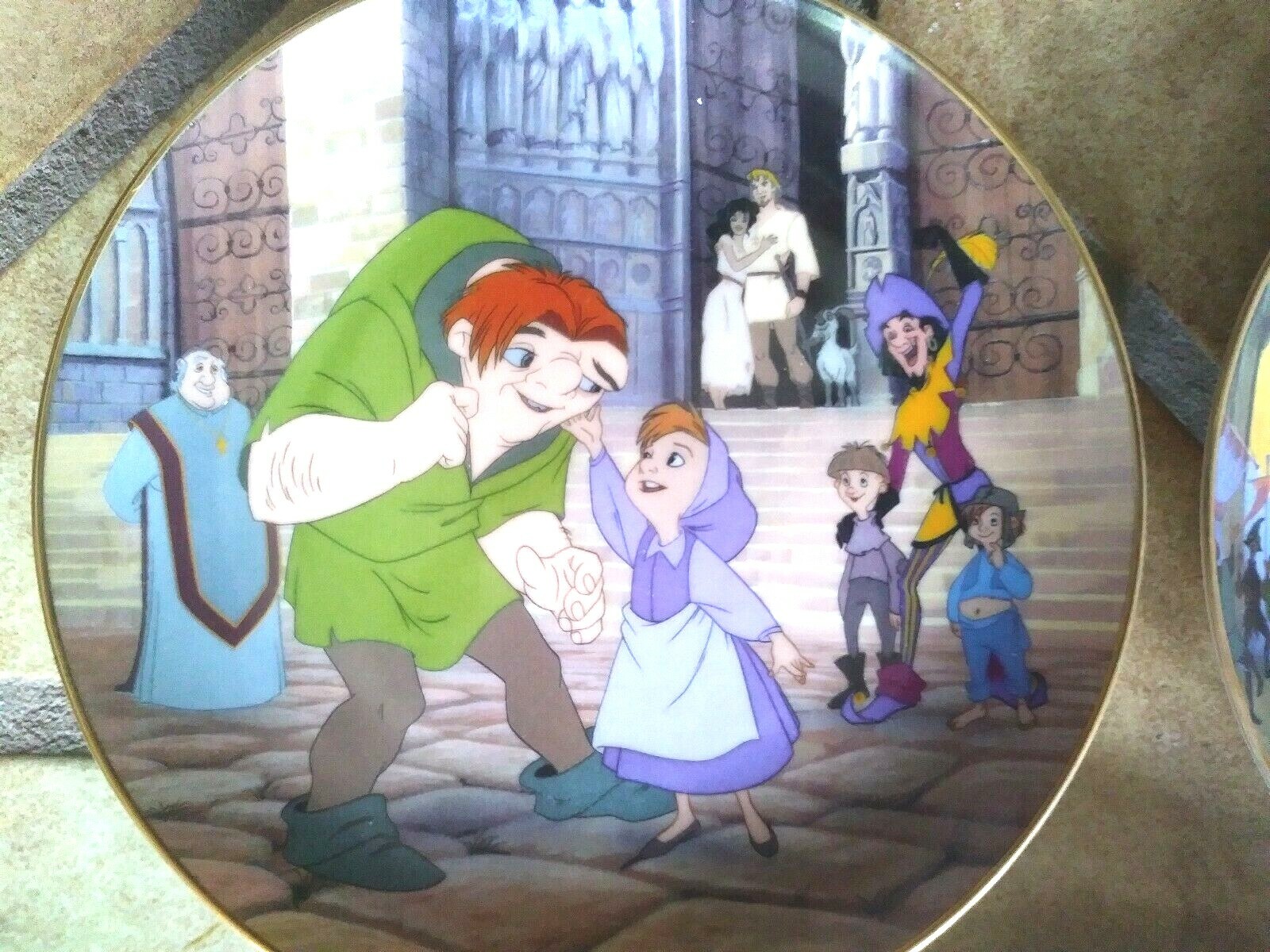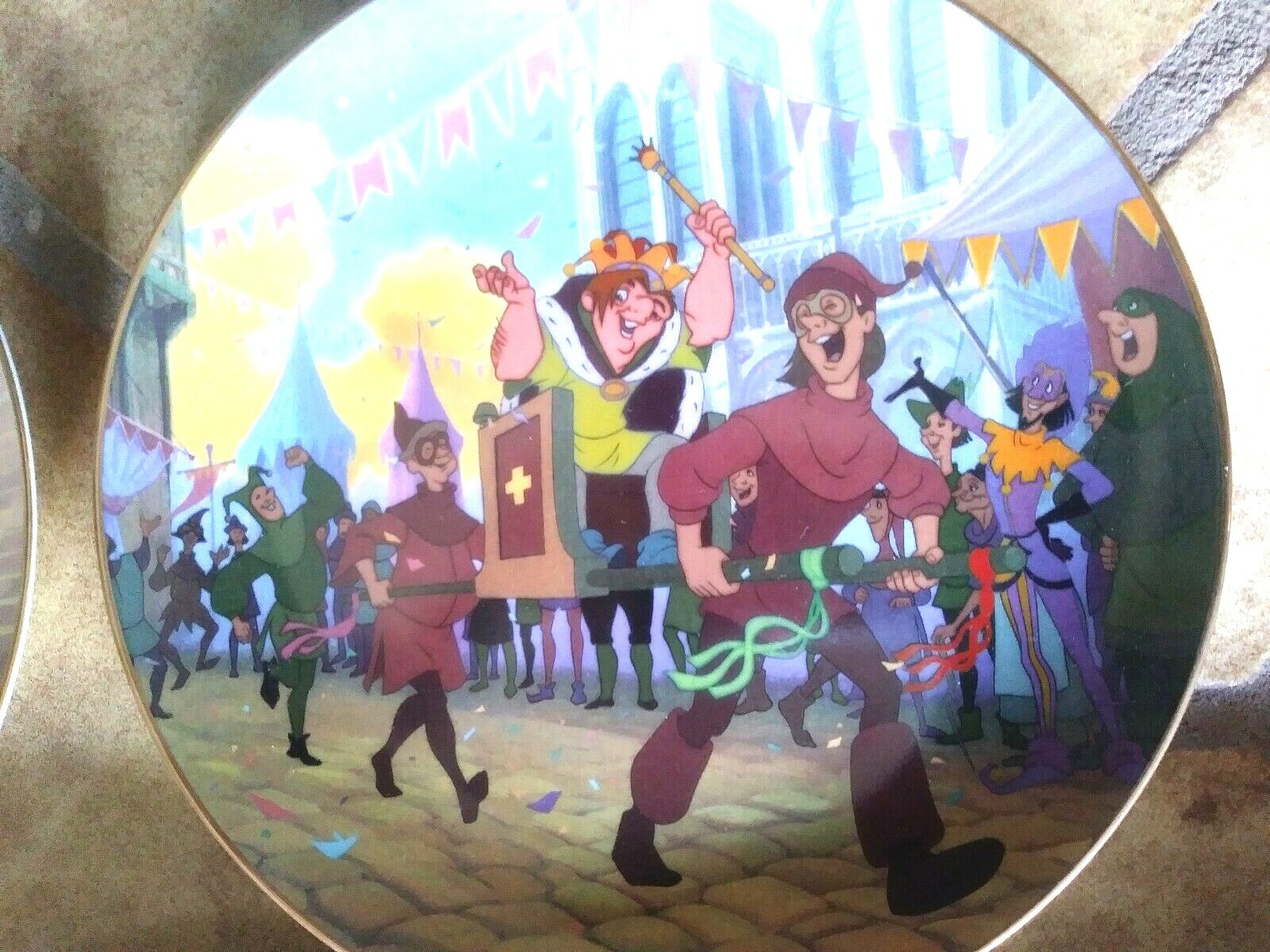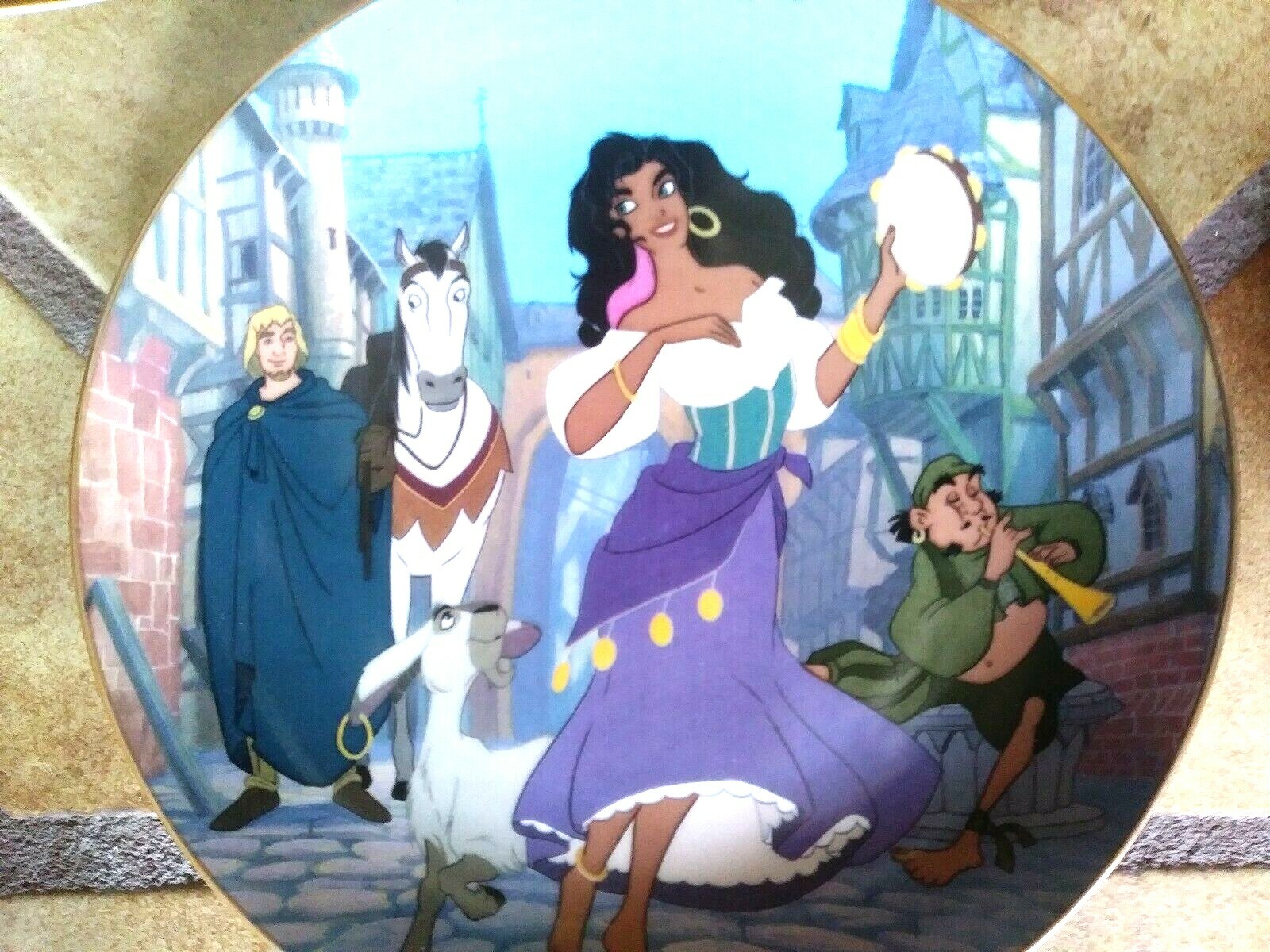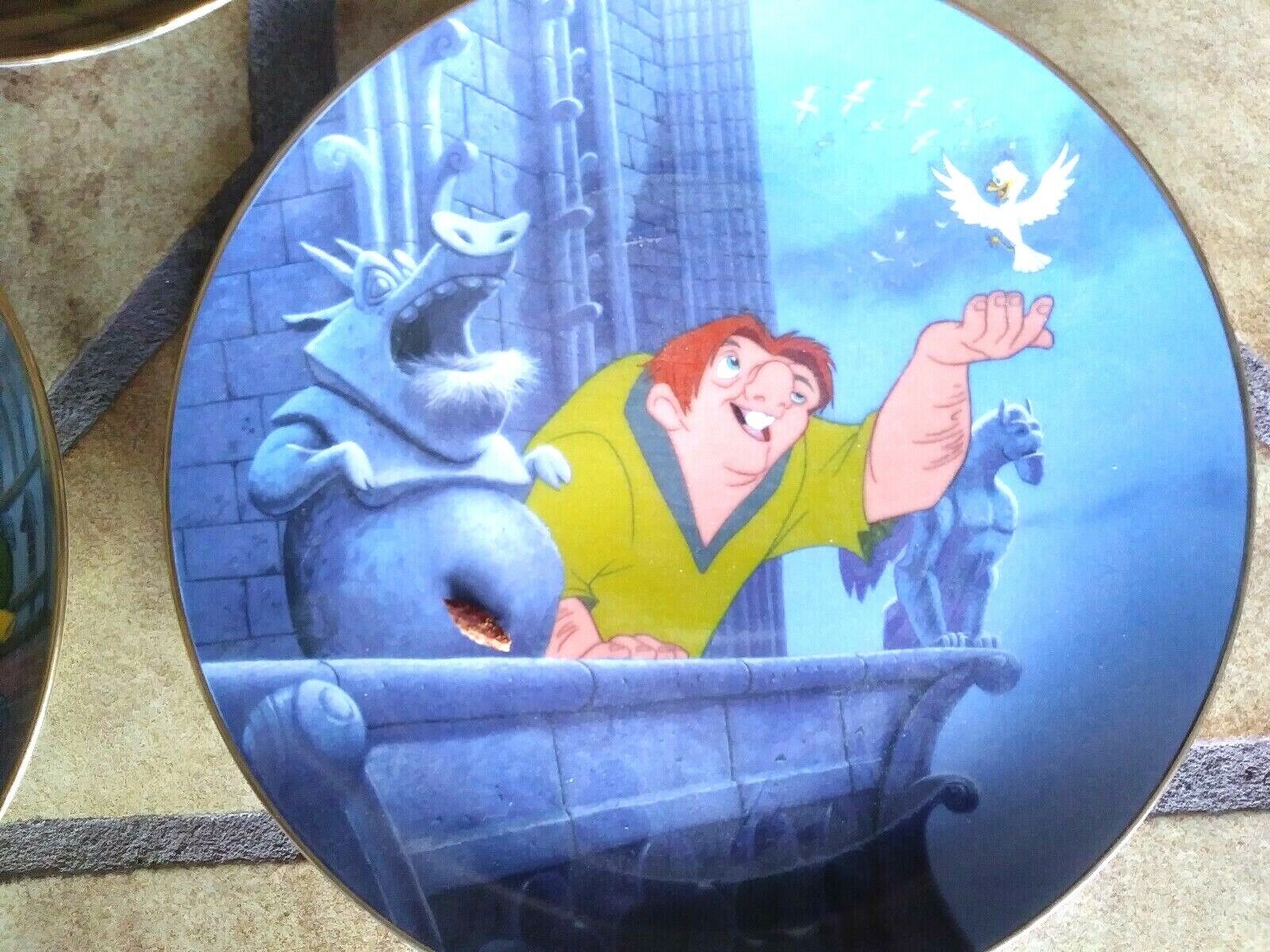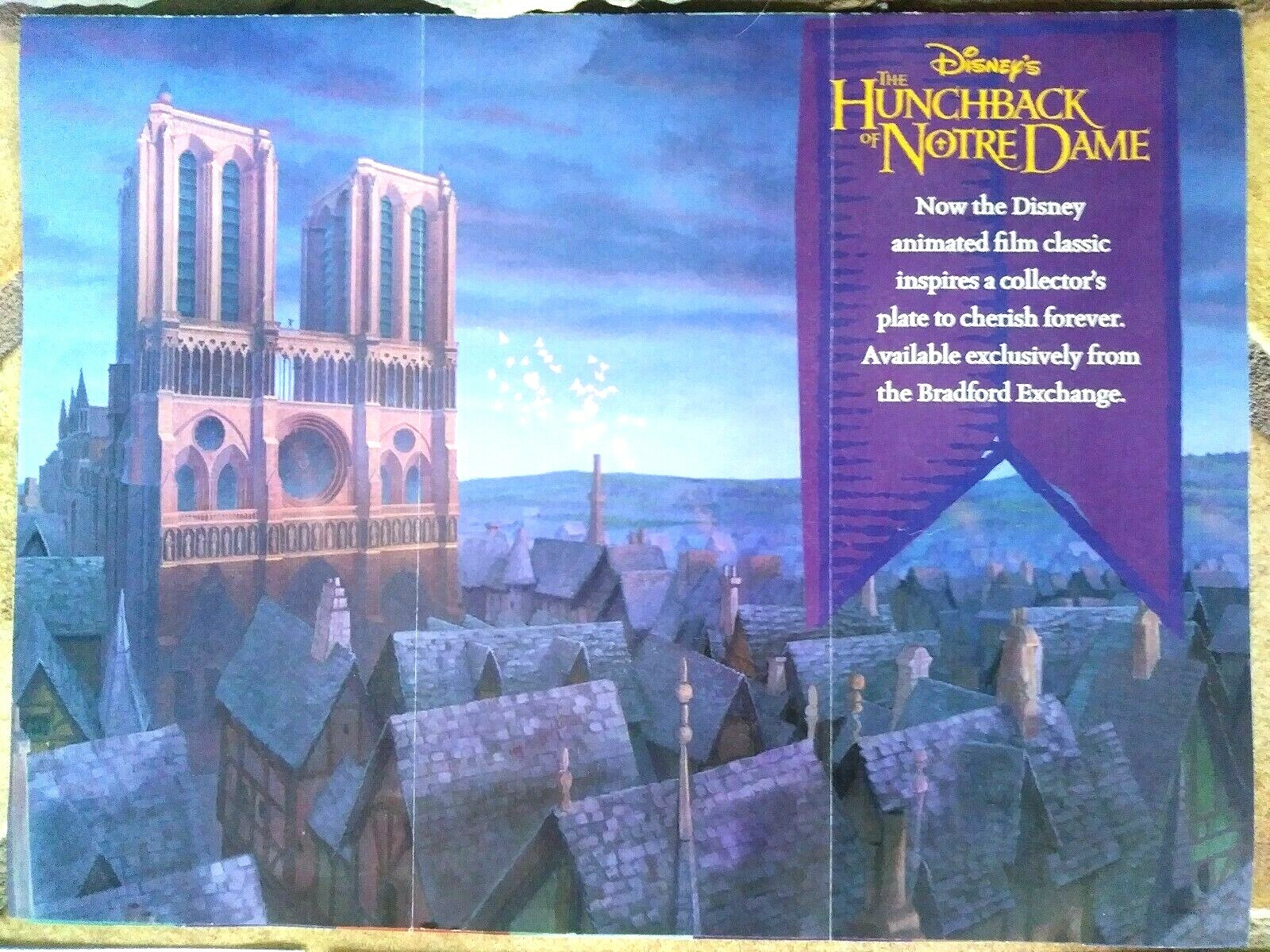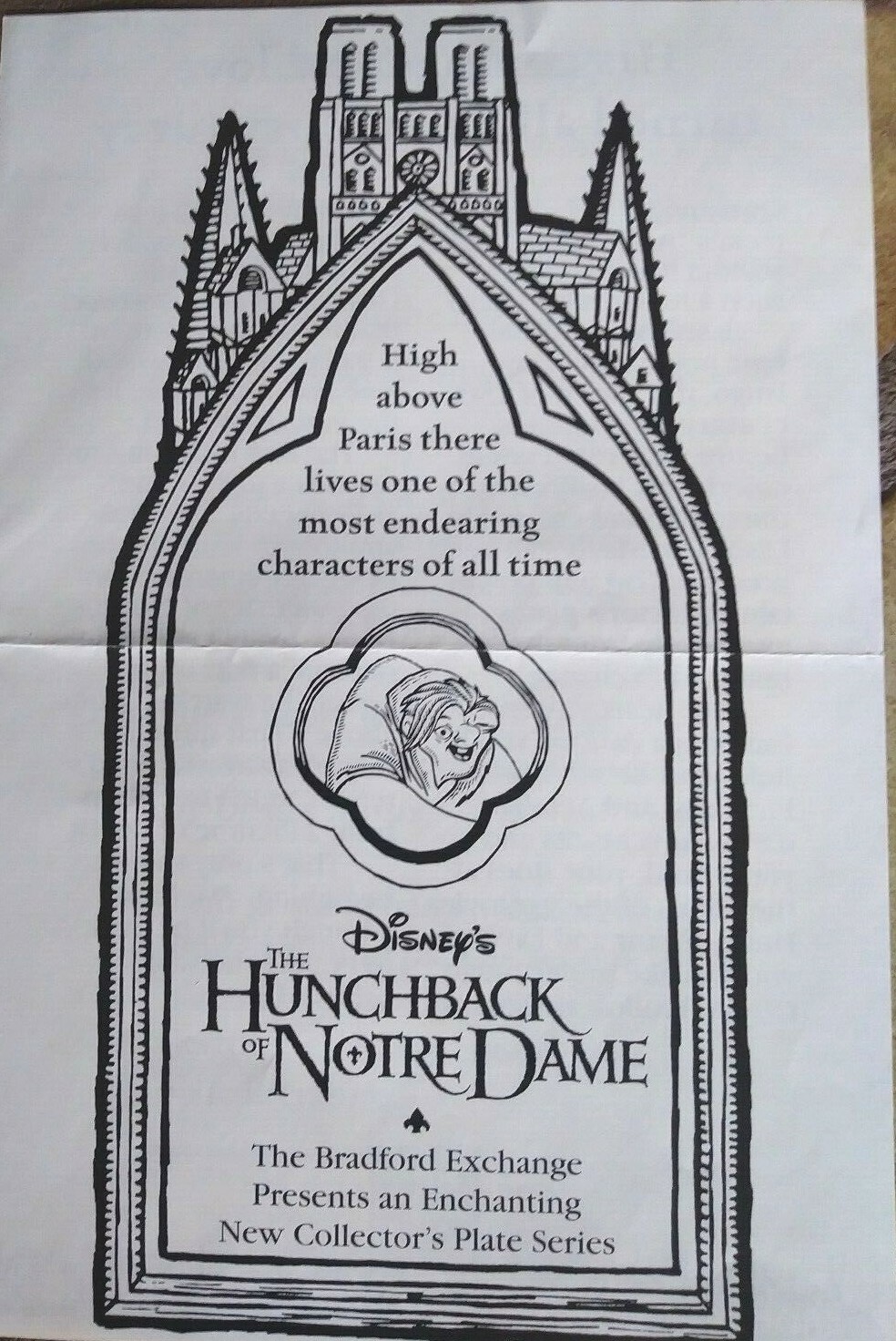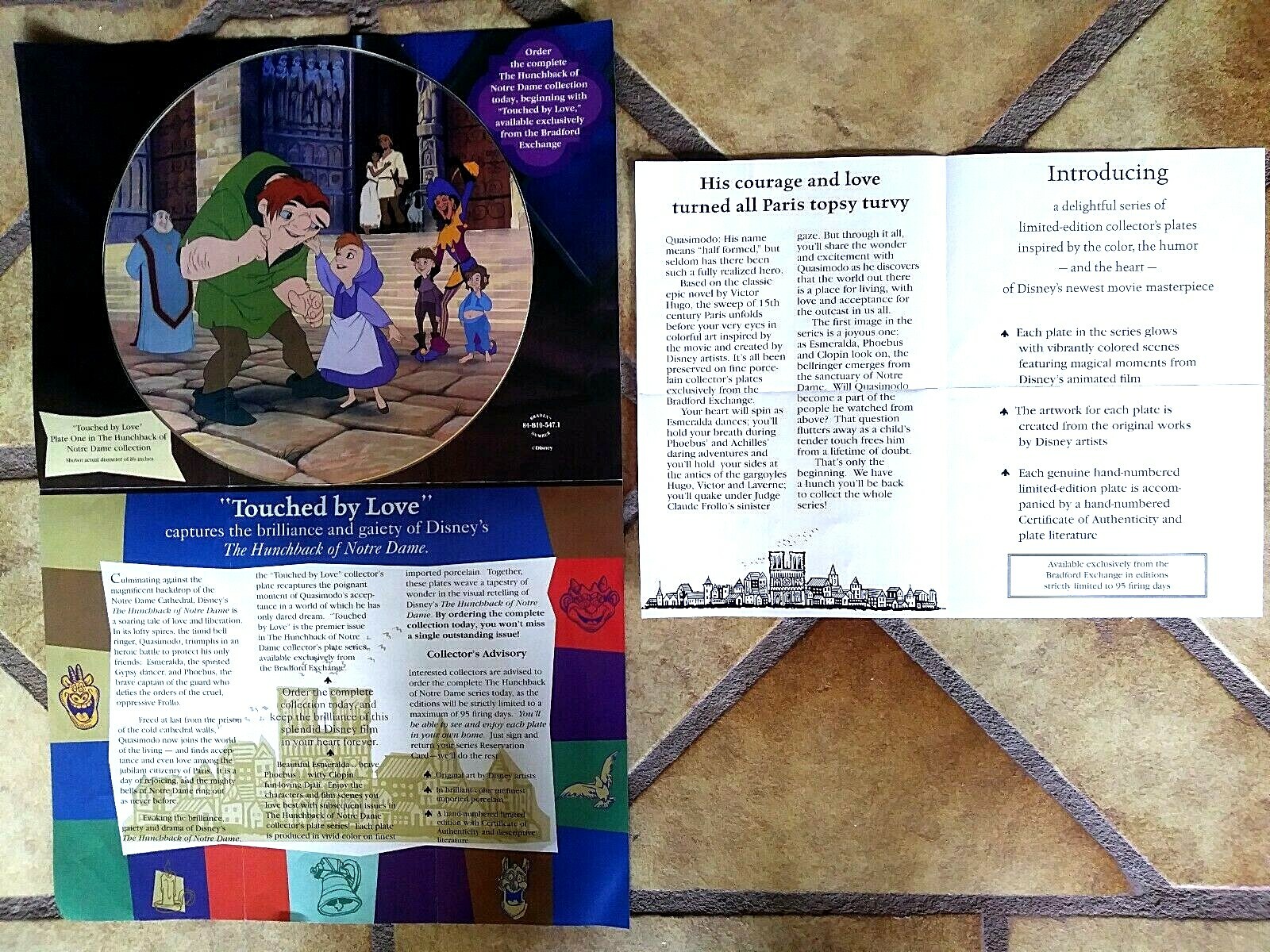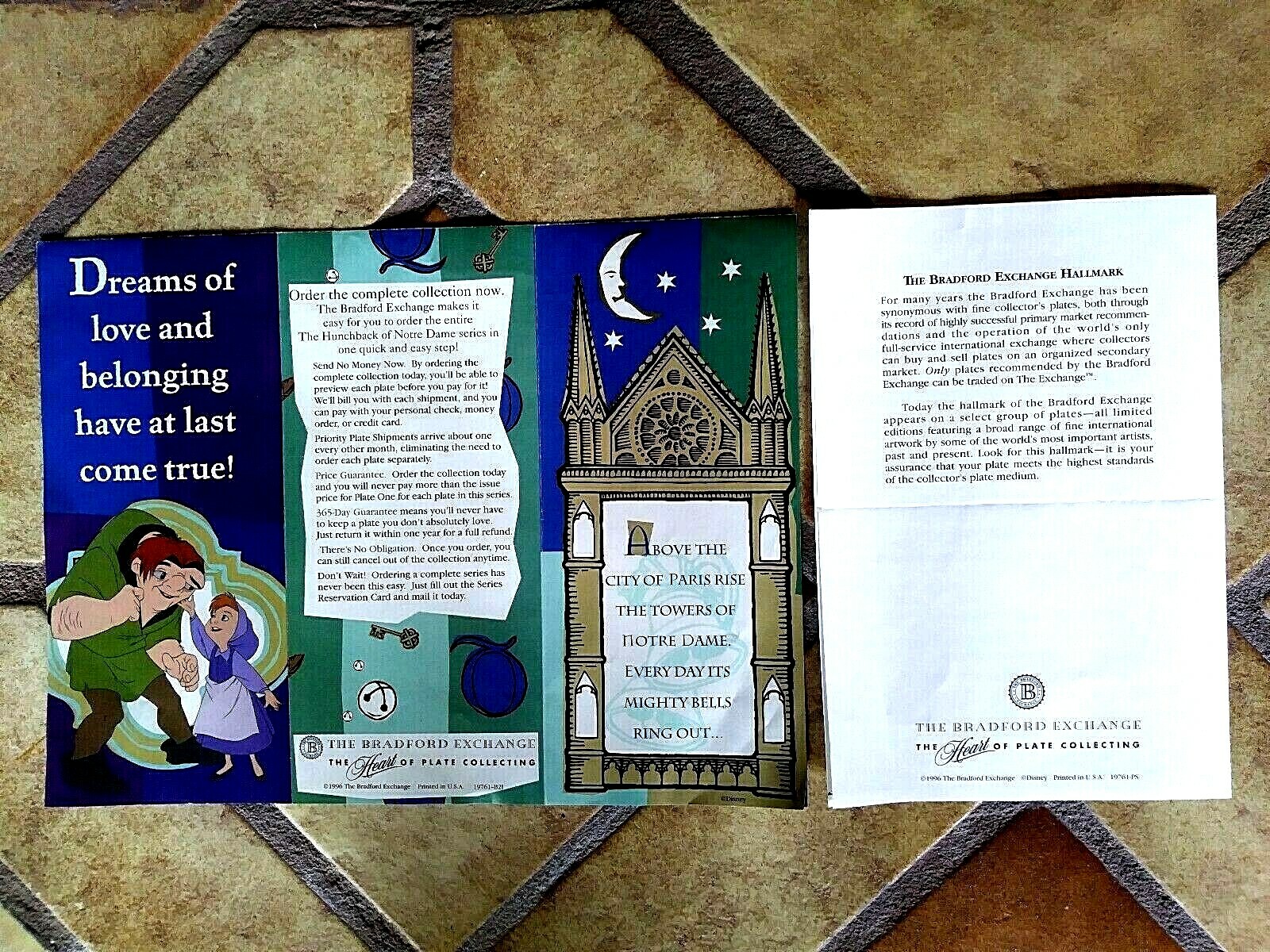 Характеристики
Country/Region of Manufacture
United States
Convention/Event
HUNCHBACK OF NOTRE DAME DISNEY ANIMATED FILM
Character/Story/Theme
HUNCHBACK OF NOTRE DAME
HUNCHBACK OF NOTRE DAME, FULL SET OF FOUR LIMITED EDITION DISNEY BRADEX PLATES OF BONE CHINA, EACH 8-1/4 INCHES, 1996, IN M
INT CONDITION. INCLUDES: Plate One, #3725A: "TOUCHED BY LOVE", Plate Two, #1699A: "TOPSY TURVEY PARADE", Plate Three, #583A: "DANCE OF ENCHANTMENT", and Plate Four, #690A: "A GOOD DAY TO FLY".
A strictly limited edition, to a maximum of 95 firing days, and the individual plate numbers are registered on the Bradex Exchange as #84-B10-547.1 to 547.4.
Brand new,
purchased in the 1990s and stored, almost untouched, in our warehouse since-- Plates are in MINT condition, and all four plates come with their Certificates of Authenticity, Descriptive Illustrated Brochures, and all the other paperwork that came with them (SEE PHOTOS).
Retired for nearly three decades, these plates, based on Disney's classic drama, THE HUNCHBACK OF NOTRE DAME, are in amazing condition-- and we're offering them to you significantly cheaper than if you assembled the set yourself, by buying them individually.
Like all of our hundreds of items, this ships to you-- PACKED SUPER-SECURELY, FREE, anywhere in the USA. We also ship overseas to nearly all countries, via eBay's Global Shipping Program.
We also carry most of the WDCC figurines released before 2007, as well as a huge variety of other Disney figures and collectibles from many of the major manufacturers: Disney, Goebel, Enesco, Schmidt-- so if you don't see something you want listed here, please contact us!
And since this is a new eBay store for us, please feel free to check us out with our OTHER eBay store: FAIRFAX COLLECTABLES, in which we carry HUNDREDS of Enchantica, Land of Legend and other Dragon, Wizard and various other fantasy figurines. We also carry fantasy and science fiction and dinosaur action figures, figurines, sculptures and toys-- as well as related magazines and other collectibles.
In addition, we have a vast inventory of Animation Art, Movie and Music Memorabilia, and Comic and Illustration Art auction catalogs-- as well as Film, Stop Motion, Special Effects, and Toy Collecting magazines.
Although new to eBay, we've been in the Collectibles business-- both Retail and Wholesale-- for over fifty (50) years, and have been known the entire time for our integrity, reliability and customer service. We've been at the same Lansing, Michigan address for over thirty five (35) years, dealing with high-end, expensive Animation Art from Disney, Bluth and Bakshi Studios-- and are well known to all the major collectibles auction houses: Bonhams, Profiles in History, R & R, and Heritage-- so feel free to check us out under our oldest business name: FAIRFAX PRINTS, LTD.