Lot of 10 Warhammer 40k Official 32mm Small Flying Bases + Stems Flyer Flight Games Workshop does not apply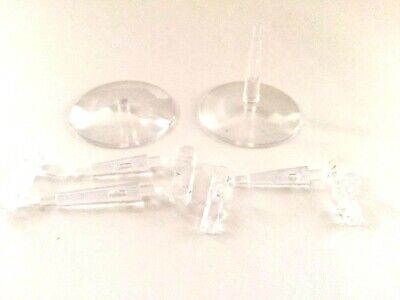 Характеристики
Country/Region of Manufacture
United Kingdom
Recommended Age Range
10+
Lot of 10 Warhammer 40k Official Games Workshop 32mm Small Flying Bases + Stems
10 new Warhammer 40k Citadel 32mm small flying bases + 15mm/20mm stems by Games Workshop.
Used in 40k for :
Small jetbikes: Windrider/Skyrunner jetbike, Reaver, Skyweaver, Tomb Blade, Screamer of Tzeentch
Some jump infantry: Hellion/Beastmaster, Tyranid Gargoyle, most Tau drones (MV1 Gun, MV4 Shield, MV5 Stealth, MV7 Marker, MV8 Missile, MV17 Interceptor, MV31 Pulse Accelerator, MV33 Grav-Inhibitor, MV36 Guardian, MV52 Shield, MV62 Command-Link, MV71 Sniper, MV84 Shielded Missile, MB3 Recon, DX4 Technical, Heavy Gun)
Used in AoS for: Screamers of Tzeentch, Disc of Tzeentch, and custom flying infantry.
We strive for 100% satisfaction and 5 star ratings.
If there has been any error in your order, please email us through eBay first before filing a case.
We will fix the problem immediately. Thank You
Check out my other items!