Lot of 100 Bills - JUSTIN BIEBER EGGHEAD MUGSHOT ZERO DOLLAR DEPORTATION BILL Без бренда
Lot of 100 -
Justin Bieber Mugshot Bills
Click here to View our other Novelty/ Commemorative Bill auctions!

We have more than 300 Different Bills in STOCK!
SPECIAL NOTE: A BID FOR QUANTITY 1 IS FOR 100 BILLS, QUANTITY 2 IS FOR 200 BILLS, ETC...
See our other auctions for Lots of 2, 10, 25 and 100 - The more you buy, The more you SAVE!
These are GREAT looking bills that have Full Color on front and Back !!! Same size as real USA money. This is a Novelty bill for collectable purposes only... Great conversation starter, gift or Look great framed!! Features of this bill include:
Justin Bieber's Mugshot is in the middle on front with "Justin Bieber Canadian Teenage Egghead" written below

Along the top is "Bieber Deportation Dollar"

Serial number "DRAGRACING" and "INTOXICATED"

The value on this bill is ZERO

"This note is to recognize lots of mone + a little mind = big trouble"

Signed by "Resisting Arrest"

and "Limo Driver Attack"

The back shows a US Visa which is stamped "REVOKED" a crossed it

The visa details include:

Issuing Port Name: Foolish Fan, Control number:

1-LIL-0, Passport number:

TEMP!-4U, Issue date:

CHILDHOOD, Expiration date:

ASAP,

Annotation:

Lack of good judgment in the USA .

Noted on the visa – Was issued for Extraordinary ability in the field of arts.

Written below the VISA it says " Extraordinary Fool – Revoke the VISA

Full color on front and BACK

---
Check out other novelty bills in these categories :

---

Shipping Details

We package every order carefully to prevent damage. All bills are sent either in a bubble mailer or cardboard box depending on the quantity purchased.

NOTE: To receive discounted shipping all items need to be paid for with ONE payment. Please review our other items BEFORE payment is made so we can combine shipping costs and save you money.

Purchase multiple auctions and SAVE on shipping! If during check out shipping is NOT combined please e-mail us for an invoice with the correct shipping charge.

Shipping to the United States:


Shipping is only $2.50 no matter how many bills you purchase. Whether buying 2 bills or 10,000 bills shipping is only $2.50!!!
If multiple auctions are won, shipping will be combined, AND WILL NOT EXCEED $2.50 to the USA regardless of how many bills purchased.
We ship USPS first class. If combined purchases total $50 or more we will ship USPS Priority mail for no additional charge.

International Shipping

International shipping STARTS at $5.50 for 25 bills or LESS.
For 100 Bills or more – Shipping is $11.50 for the 1st lot of 100 Bills and $1.50 for each additional lot of 100 bills.

Thanks for Looking!
Click HERE to view our other auctions!!!
---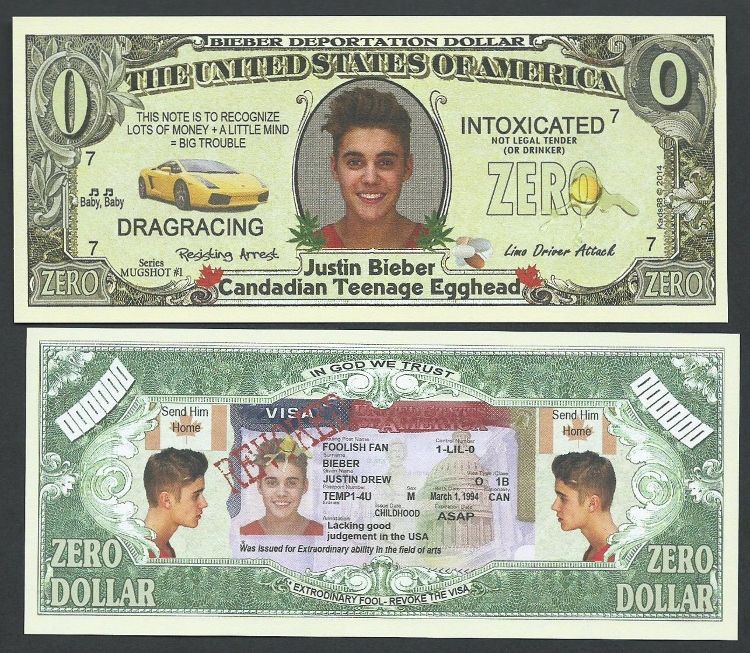 (Picture shows one bill - front and back)
Lot of 100 -
Justin Bieber Egghead Bills
Pay me securely with any major credit card through PayPal!
---