Lot of 2 Ohio 1947 US Senator Autographs from John Bricker & Robert Taft Без бренда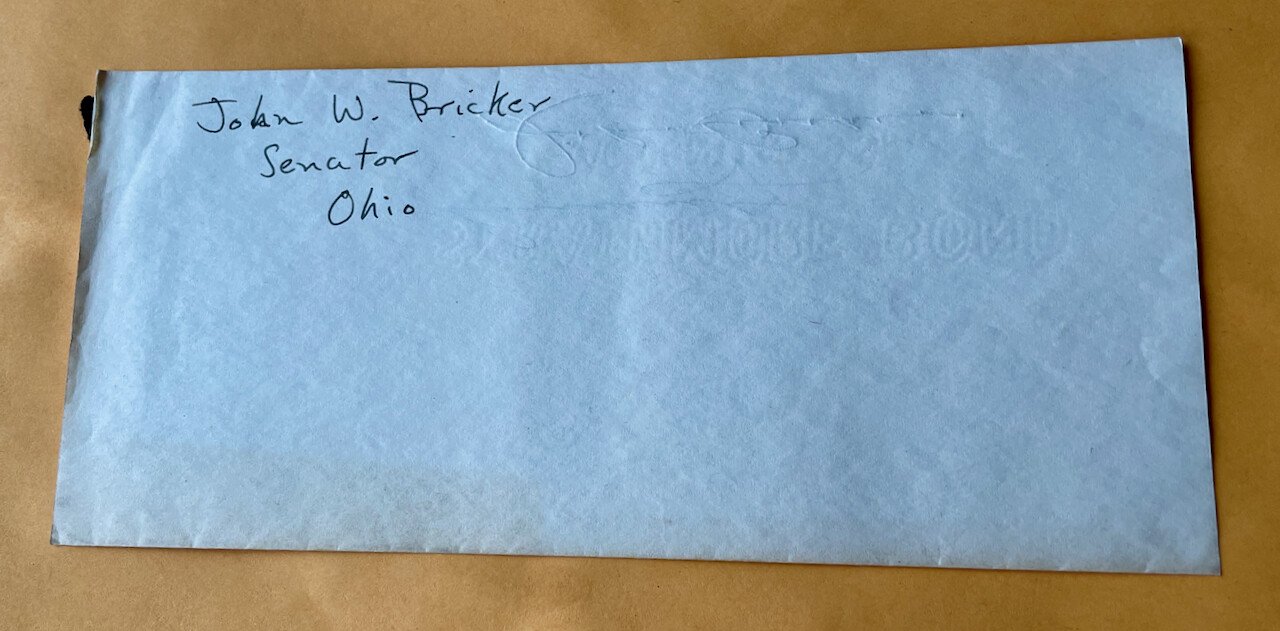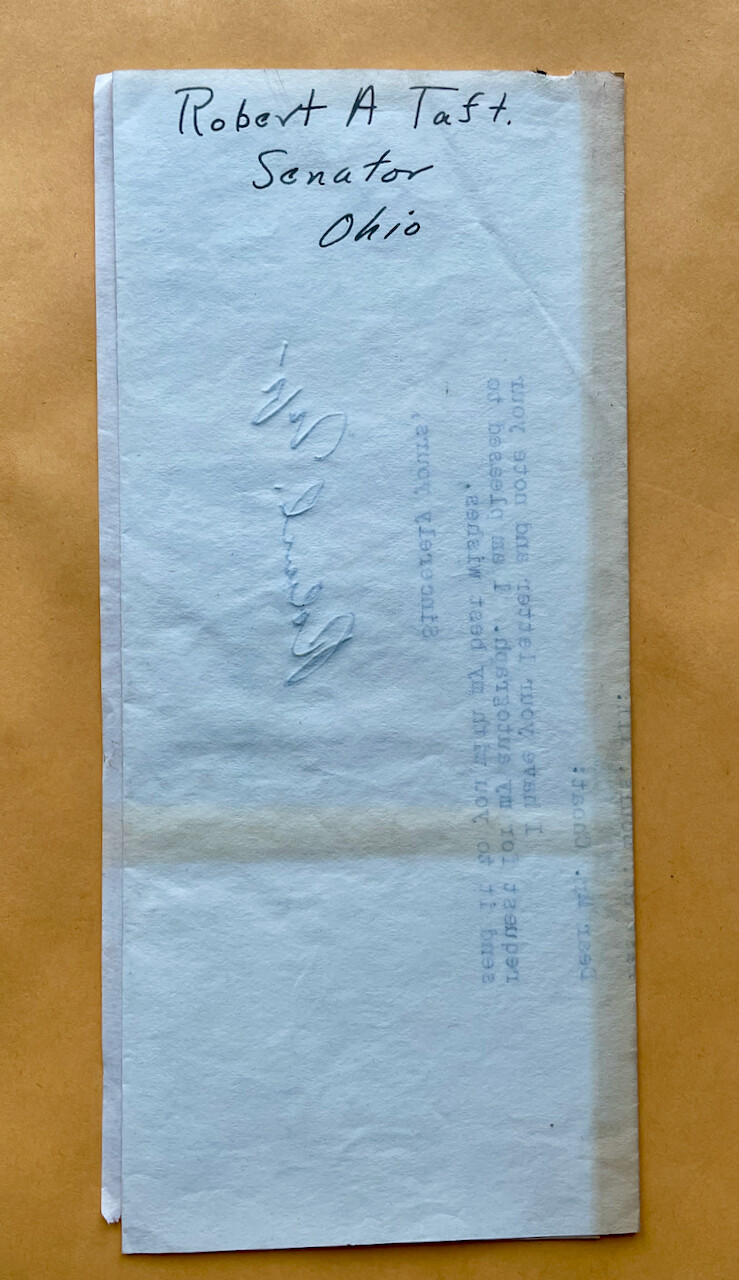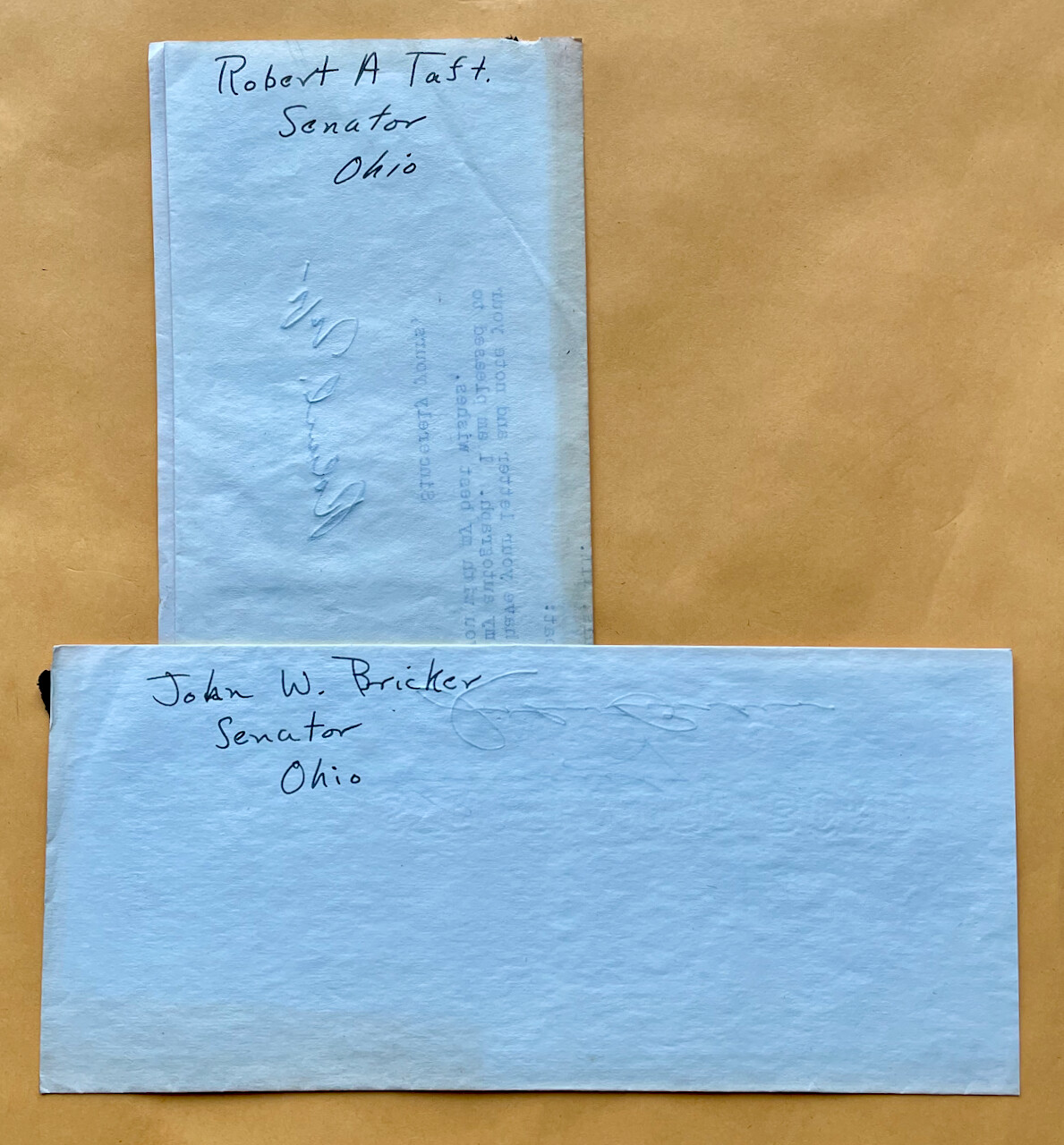 Lot of 2 Ohio 1947 US Senator Autographs from John Bricker & Robert Taft
For sale in this auction is a set of autographs. These come from a collection of photographs and autographs
collected by my father when he
was
14
years old (1947-48). I believe these were collected and placed in scrapbooks as a school project.
These have remained boxed and stored
safely
for all these years. I recently
received these boxes and discovered this large collection of over a 100 photos and autographs. I have removed
them
from the scrapbook and have placed a nickel and a
quarter on the open letters to both show the respective size and hold open the letter
without
causing any damage.
Autograph 1: John W. Bricker, U.S. Senate
John William Brickeer (6 September 1893 - 22 March 1986) served as a U.S. Senator and the 54th Governor of Ohio. He was also the Republican nominee for Vice President in 1944. Born in Madison County, Ohio, he attended Ohio State University and began a legal practice in Columbus. He also served in the U.S. Army during WWI. He served three terms as Governor of Ohio from 1939 to 1945. Bricker was Thomas E. Dewey's running mate on the 1944 Republican ticket for president, campaigning against the New Deal and President Franklin D. Roosevelt. Bricker won election to the Senate in 1946 and introduced the Bricker Amendment, which would have limited the president's power to make treaties. The Bricker Amendment received support from both parties but was not passed by Congress. After leaving office, Bricker resumed the practice of law.
Autograph 2: Robert A. Taft, U.S. Senate
Robert Alphonso Taft, Sr. (8 September 1889 - 31 July 1953) was in the U.S. Senate, briefly served as Senate Majority Leader, and was a leader of the conservative coalition of Republicans and conservative Democrats who prevented expansion of the New Deal. Often referred to as "Mr. Republican," he cosponsored the Taft-Hartley Act of 1947, which banned closed shops and other labor practices. The elder son of William Howard Taft (the 27th President of the United States and the tenth Chief Justice of the U.S.), Robert Taft was born in Cincinnati and pursued a legal career in Cincinnati after graduating from Harvard Law School in 1913.
Shipping is available to the continental United States or internationally through Ebay Global Shipping Program.
Please check my positive feedback and bid with confidence. Good luck!