Master Lock 646D Black 13/16" Wide Set Your Own Combination Lock - Pack of 14 Master Lock 646D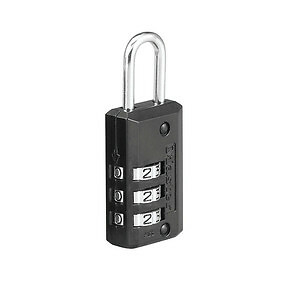 Master Lock 646D Black 13/16" Wide Set Your Own Combination Lock - Pack of 14
Get it today for only $60.99!
The Master Lock No. 646D Set Your Own Combination Padlock features a 13/16in (20mm) wide metal body for durability. The 1/8in (3mm) diameter shackle is 11/16in (17mm) long and made of steel, offering resistance to cutting and sawing. The 3 dial combination security offers keyless convenience. The Limited Lifetime Warranty provides peace of mind from a brand you can trust.
Master Lock 646D Combination Lock Features
- Easy to set & reset numeric combination
- 13/16in Wide durable solid metal body
- Black finish
- Steel shackle for cut resistance
- 3 dial combination security for keyless convenience
646D Lock Specifications
- Body Width: 13/16in (21mm)
- Shackle Dimensions A: 1/8in (3mm) B: 11/16in (17mm) C: 3/8in (10mm)
- Color Black
Order this Master Lock 646D Black 13/16" Wide Set Your Own Combination Lock now!