NEW LATEST DESIGNER GEORGETTE SARI INDIAN BOLLYWOOD CASUAL WOMEN SAREE 9641 SHRI BALAJI EMPORIUM Does Not Apply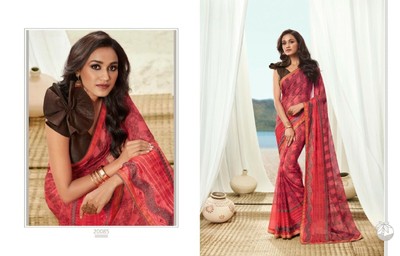 Бренд: SHRI BALAJI EMPORIUM
Размер: Saree length is 6.25 with blouse pc.
Характеристики
Country/Region of Manufacture
India
Occassion
Formal & Party Wear
SHRI BALAJI SILK & COTTON SAREE EMPORIUM

B-Spoke Designs * Exporter * Wholesaler * Retailer (Women Garments)

Please feel free to Contact us if you have any questions to place order. All our collections are 100% in line with the picture listed and high quality. We do not deal in copy or replica products. The dispatch time after confirmation of payments is 5-7 business days but can be early or late do check with us. We export our products in 140+ countries and our aim to bring new fashion with high quality and latest style.

FABRIC
:
GEORGETTE SAREES
Size: The length of the saree is 6.25 meters. Blouse pc is included.

STITCHING SERVICES : If you need Blouse stitching do contact us after you place the order at additional cost.

Why should you buy from us :
• 100% original in line with the picture shown
• Latest designs with high quality fabric & fast delivery
• This is made by weavers from west bengal (india) and it's a perfect saree to wear for formal and festive seasons

• Strong team of fashion designers & Customer service executive to suggest based on requirements