PAIR OF TEAK NIGHTSTANDS SMALL CHESTS BY BONNIERS MADE IN DENMARK Без бренда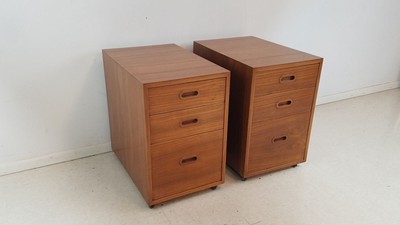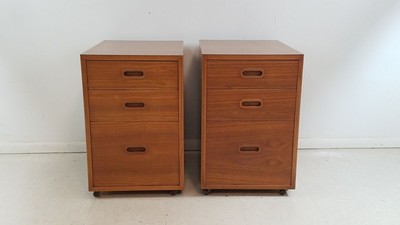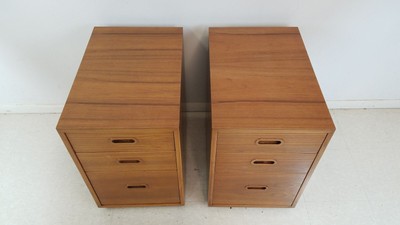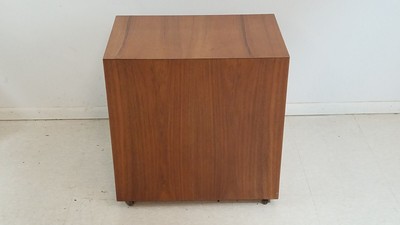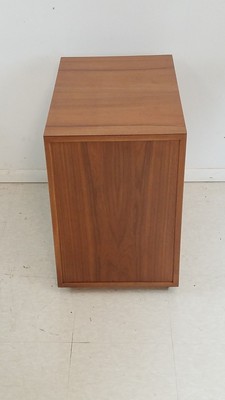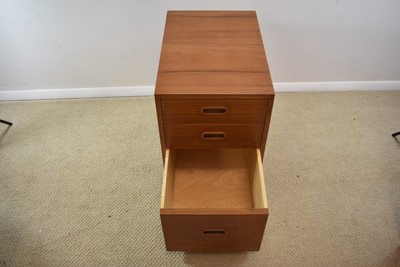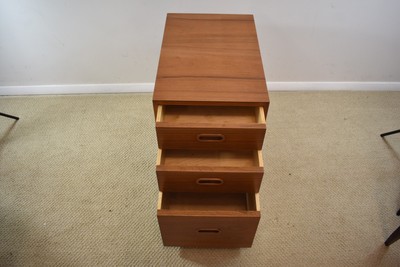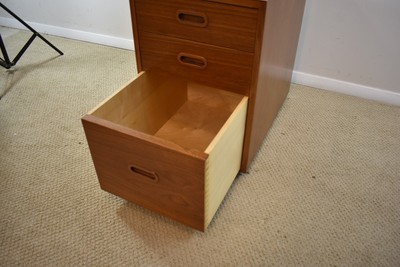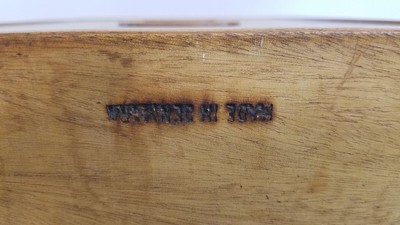 Характеристики
Original/Reproduction
Original
Time Period Manufactured
1900-1950
A pair of Mid Century Modern teak Bonnier chest/nightstands imported from Denmark. They have 3 graduated drawers with a very well finished inset handle. The drawers are, dovetailed, another sign of true quality. They are on casters that can be removed. Last but not least, this pair of small chests are finished on the back side of them so you can put them in the center of a room or view them from any side. Own this pair of Mid Century chests and have a investment you can live with offered by Lefflers Antiques. Very good, clean condition. The dimensions are 16"W x 23.5"D x 24"H. The interior of top drawer is 3 1/2" tall, the interior height of second drawer is 4 1/4" and the bottom drawer height is 10 1/2" x 13 1/4 wide. Bottom drawer will hold standard files. Please contact Lefflers Antiques with any questions or for assistance in acquiring a shipping quote to your location.
PLEASE NOTE: All items are sold "As-Is-Where-Is"Most of the items that we sell are vintage or antique. We give the best description, dimensions and pictures that we can. As these items are not new, normal signs of use should be expected such as minor nicks, scuffs, or surface wear. You are purchasing the item as pictured, if you need specific dimensions or details, please feel free to contact us during normal business hours of 9 to 5 Monday thru Saturday prior to purchase. We strive to offer quality pieces that will be proudly displayed in your home.
SHIPPING: Please allow 4 to 8 weeks after scheduling for delivery of your item. As we do not have our own shipping fleet, domestic freight is done by independent blanket wrap shippers which have their own insurance. It is important that you inspect the furniture when it is delivered to your home and alert the shippers to damage at the time of delivery. Once you have accepted delivery, there can be no adjustments made. You can contact us for assistance , list your items for shipment on USHIP online (please verify that any shipper chosen is fully insured), or try the following for shipping quotes to your location:
Rick Ships
Plycon Vanlines
TERMS AND CONDITIONS: Please Read before purchase
It is agreed that Lefflers Antiques is an online furniture retailer, selling goods to consumers and that all items are being sold in as-is condition with no warranties or guarantees either expressed or implied. We makes every effort to accurately describe and photograph any and all items to the best of their ability. It is suggested that buyer make all inquiries and questions prior to committing to an online purchase. All items are available for preview and inspection at our retail or warehouse locations and all potential buyers are invited to come view and inspect prior to making final purchase. Failure to inspect does not negate that Bidders responsibility to perform under the auction terms and conditions. The buyer, whether acting as principal, agent, officer or director of a company or otherwise, in any capacity whatsoever, and the company he represents, both jointly and severally agrees to indemnify and save harmless Lefflers Antiques as well as its officers, directors, employees, agents, attorneys and its consignors, from any and all actions, causes of action, suits, damages, costs, and losses of any nature, including injury and death, arising from the purchase or use of any items. All items are sold "AS IS-WHERE IS" without any guarantees or warranty expressed or implied, statutory or otherwise of any nature whatsoever in respect of the lots offered online. Purchaser is responsible for all shipping and delivery charges for all items purchased. Lefflers Antiques and its employees make no recommendations of freight carriers. Lefflers Antiques does have a list of approved carriers shown above as a courtesy to any potential buyer. Purchasers are welcome to use any licensed carrier of their choice providing they provide Lefflers Antiques with a Bill of Lading, condition report and are insured and authorized to carry such goods. In no way shall Lefflers Antiques be held liable for any damages or loss in excess of the original purchase amount. All shipping is at the expense of the buyer and shall be paid directly to appropriate shipping company. State and local sales tax will be assessed and collected on all purchases unless legal exemption documentation is provided at the time of sale. Purchaser shall not be entitled to remove any item from the showroom facility until all his purchases are paid for in full including all applicable goods, rendered services, sales or use taxes. Purchaser is responsible for insuring his purchases immediately. Lefflers Antiques will provide whatever documentation is necessary to help buyer receive insurance or reimbursement from shipping company in the rare occurrence of damage or loss. Lefflers Antiques will allow for the return of any purchase within 30 days of payment for any reason and without prior approval. Purchaser just needs to contact Lefflers Antiques before 30days and refund of purchased item will be given. Any refunds, either cash or credit, shall be for up to the purchase price only; shipping costs excluded. There may be special exceptions, but prior approval must be granted by Lefflers Antiques via email or writing stating revised agreement. Items being delivered can be returned for full refund if item is refused at time of delivery. Any charges or fees due to shipper will be responsibility of buyer and need to be satisfied directly with the shipping company. Any purchased items that are paid for, or being paid for, but not picked up within 6 months of purchase will be resold and any monies received forfeited (unless prior arrangements have been made). We will gladly store and hold paid items for up to 60 days at no charge, after that a storage fee of up to $200 per month will be applied. This balance, including storage fees, would need to be paid prior to any item to being removed from the premises.




THE simple solution for eBay sellers.