RAGGEDY ANN & ANDY~1994 Applause~LE Doll Pair~1924 Classic Book Version Toy~MIB Applause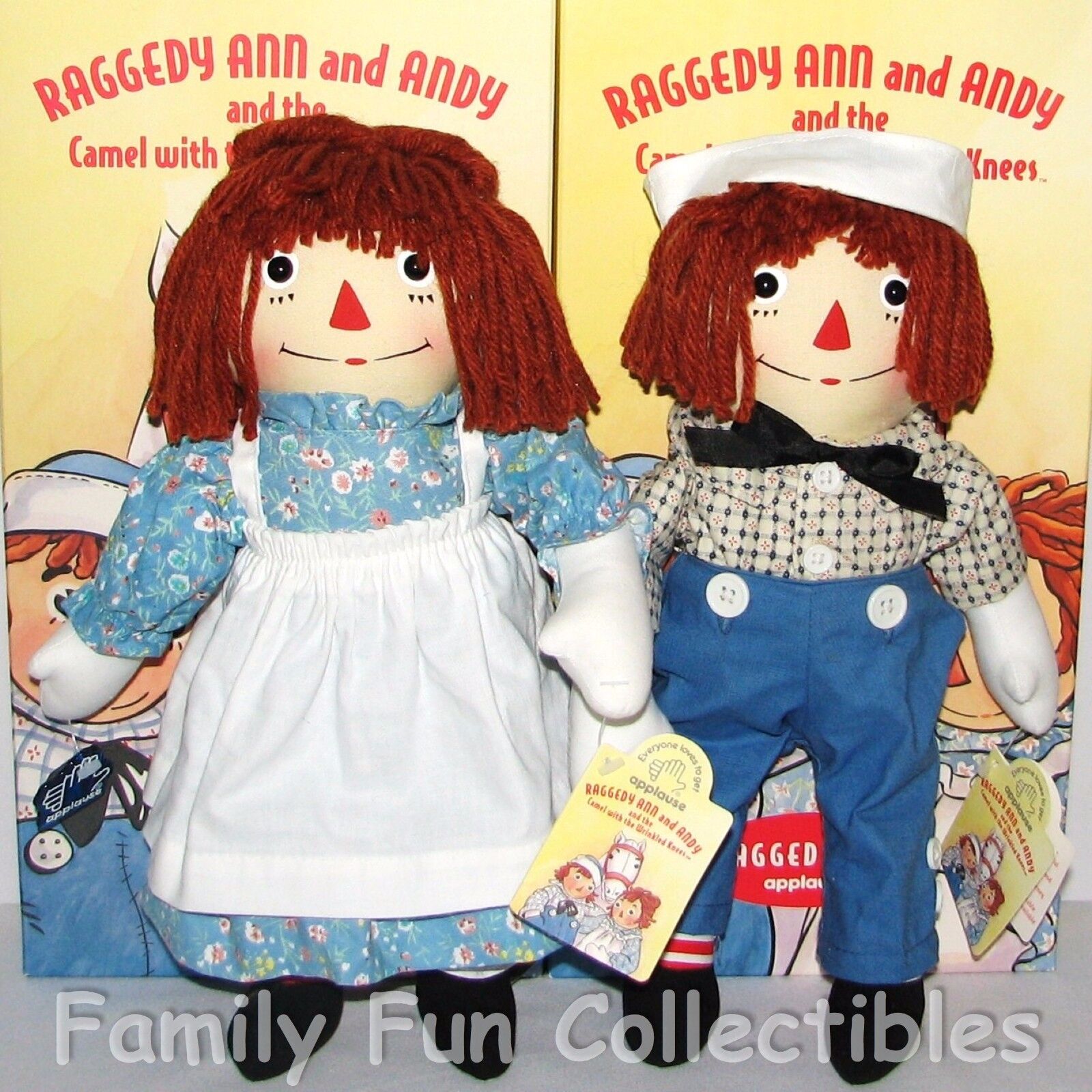 Характеристики
Combined Shipping Charges
WE COMBINE SHIPPING TO LOWEST COST POSSIBLE
Check "Shipping and Payments" tab above
LOWER SHIPPING MAY BE AVAILABLE TO YOUR ZIP CODE
WE COMBINE SHIPPING CHARGES
IMPORTANT: When purchasing multiple items it is best to request an invoice rather that paying for each item separately.
We will then send you an invoice with the combined shipping charges.
This minimizes eBay fees and saves us from having to perform a refund.
Thank you!
CERTIFICATE OF AUTHENTICY (SIC)
These charming dolls have been, for first time, authentically modeled after the illustrations featured in Johnny Gruelle's 1924 classic. "Raggedy Ann and Andy and the Camel with the Wrinkled Knees." They are offered by Applause under strict supervision and are produced as a bona fide member of the special limited edition series.
These wonderfully unique dolls bring to life the classic story of an extraordinary and whimsical journey made for a dear friend. As a limited edition of 10,000 these collectible dolls are certain to increase in value in the coming years.
This doll is number ____________ from the authorized limited series of 10,000 produced by Applause, Inc. in 1994.
(The place on the certificate where the limited edition numbers would be filled in were all left blank.)
These collectible Raggedy Ann and Andy Dolls were part of a Limited Edition set of cloth dolls produced by Applause in 1994. The set also included a Camel with the Wrinkled Knees doll, which was sold separately. The Raggedy Ann and Andy dolls in this listing were part of our old store stock (see our "
WHERE WE GOT OUR STUFF
" tab) and are still new in their boxes. The boxes are in new condition.
Date: 1994
Company: Applause
Category: Raggedy Ann
Item: Limited Edition Cloth Dolls
Description: Raggedy Ann & Raggedy Andy
Materials: Cloth
Size: 13" High
Weight: 1 lb 9.6 oz (pair of dolls & boxes)
Condition of Item: New in Box
Check out our other Raggedy Ann Collectibles and our other Collectible Dolls & Bears. And be sure to visit the rest of our Store to take advantage of our offer to combine shipping fees. If you like what you see, do us the honor of adding our store to your list of Favorites.
Save on Shipping Fees > Buy More Than 1 Item > Then Contact Us Before Paying
____________________________________
WELCOME TO
FAMILY FUN COLLECTIBLES
____________________________________
If you are purchasing more than 1 item, please do not pay for each item separately.
We will combine all of your purchases into a single invoice with one combined shipping charge.
Please do not pay any invoices until you are done shopping and your latest invoice reflects all your purchases.
SHIPPING
We may choose to ship via UPS in lieu of USPS. If this is not acceptable, please advise us at time of payment.
Please read our International Buyers

policy before purchasing.

Insurance and tracking are included in Express Mail, but are not available with First Class Mail.
Please check with your customs office to determine additional charges or restrictions that may apply to your purchase.
No import duties or taxes are included in price as listed. Any additional fees are the responsibility of the buyer.
We cannot be responsible for any failure or delay of receipt due to customs restrictions or additional fees due.
AND FINALLY THOSE OBLIGATORY STORE POLICIES (YAAWWN!)
Please see Our Store Policies for information of Bidding, Invoices, Payment, Shipping, Returns, and Feedbacks.
Yea, they're boring. But we have tried to answer some of the questions you may have.
____________________________________
HEY, WAIT UP!
BEFORE LEAVING, GRAB A PEEK AT OUR OTHER GREAT STUFF. OR JUST COME HANG OUT IN OUR STORE AWHILE.