Rising Sun board game + Kami Unbound + Dynasty Invasion expansions NEW & SEALED CMON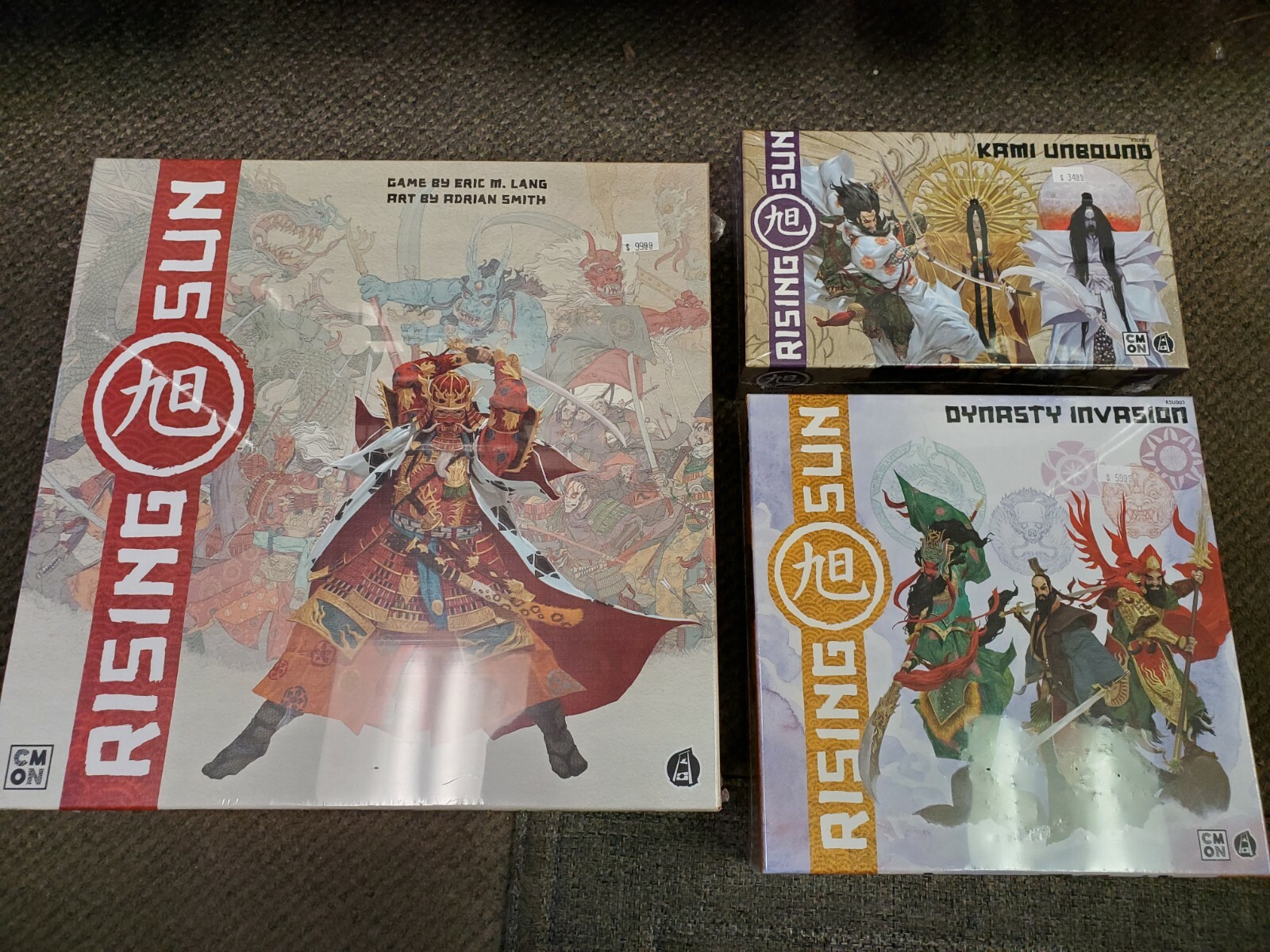 You get the base game plus both expansion! $195 Retail Value!
Rising Sun ($99.99)
Warring clans struggle for control of provinces in Feudal Japan; however, a conflict is not only won on the battlefield. Diplomacy and alliances will play a large part in winning the war.
In Rising Sun, from the acclaimed team that brought fans Blood Rage, you enter a fantastical version of Feudal Japan and control different Clans with unique abilities. You will engage in combat, make offerings to the Gods, and form and break treaties. After three hard fought seasons have passed, only the one who earned the most victory points will win.
Rising Sun: Kami Unbound ($34.99)
The Kami Unbound expansion for Rising Sun brings the Kami from the spiritual realm to the physical by introducing amazing, high-quality miniatures of these once-worshipped spirits to the game, as well as new Mountain Season cards.
Rising Sun: Dynasty Invasion ($59.99)
With the introduction of the Dynasty Invasion expansion, the Clans of Rising Sun must contend with new challengers: the Dynasty Clans and their Seven Lucky Gods. Players have the choice of two new Clans – Moon and Sun – and their Lucky Gods that they use in place of the other Clan's Monsters. The addition of these new Clans allows up to 6 players at the same time! New Season cards are also added and can be used any time. With new Clans, Monsters, and Seasons, you will experience Rising Sun like never before.
BRAND NEW, FACTORY SEALED
GAME IS CURRENTLY OUT OF PRINT/STOCK AND HARD TO FIND!
Payment expected within 3 days.
I SHIP FAST! Check out my feedback and bid with confidence! T H A N K Y O U !