SWALLOW BIRDS with FLORAL SWAG & DROPS Furniture Applique Architectural Onlay Bella Rosa Appliques Does Not Apply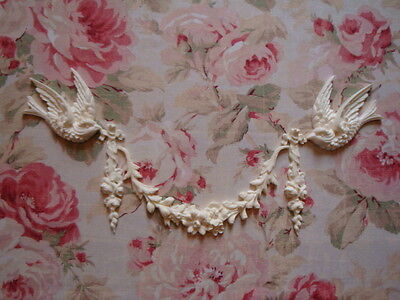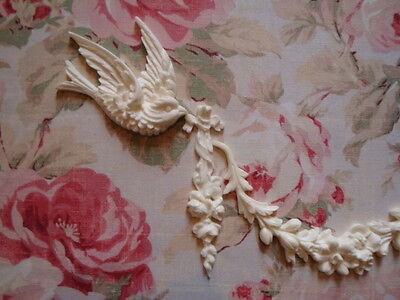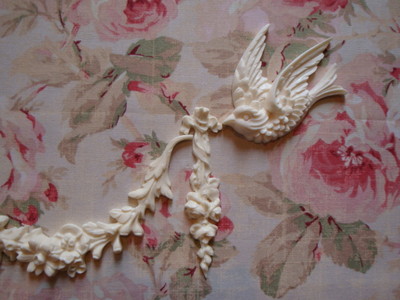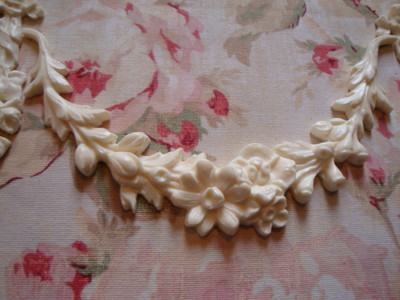 Бренд: Bella Rosa Appliques
Характеристики
Country/Region of Manufacture
United States
Shabby Chic Furniture Appliques
Furniture Appliques
Welcome to Bella Rosa Appliques!
Architectural & Furniture Appliques/Onlays
Pediments/Trim

*********
This is a Very Popular Set!
Beautiful Set! Beautiful Swallow Birds holding up a Floral Garland and Drops!
SWALLOW BIRDS with FLORAL SWAG & DROPS! Furniture Applique Architectural
This Set comes in 5 pieces. See pictures for placement.
Area Size is Approx. 18 1/2" L to R x 8" with a 1/4 to 1/2" Projection.

Separate pieces are: Swag is 8 1/2" x 4 1/2" drop in center x 1/2" projection at thickest in center.
Birds (each) are 4 1/2" x 3 1/4" x 3/4" projection.
Floral Drops are 5 1/4" x 1" x 1/2" projection at highest point'
Please feel free to contact me with any questions you may have :0)
Deco * Cottage * Chic * Furniture * Décor * Architectural *
These Appliques are 3D and have Wonderful detail!
Flat back. Made of a Top Quality Architectural Resin, no fillers. Applique is naturally White to Soft Ivory in color. Can be used Indoors as well as Outdoors. Ready for you to paint or stain! Can be Glued, Nailed, Sanded!
Can you picture Bella Rosa Appliques on your Kitchen Cabinets? Dining Room Furniture? Powder Room Cabinets? Bedroom Furniture? Fireplace Surround? Walls? Mirror Frames? Ceilings? You are only limited by your imagination!!
Headboards....Drawer Fronts....Easy to follow Instructions are included with each order.
Appliques are securely bubble wrapped for shipment. I only ship in boxes to prevent damage.

I Combine Items!
Blessings, Thank you!
:0)