TopQuaFocus 4 Quart Large Enema Bag 3 Quart Clear Non-Toxic Silicone for Coff... TopQuaFocus Does not apply
Бренд: TopQuaFocus
Размер: 4Quart
TopQuaFocus 4 Quart Large Enema Bag 3 Quart Clear Non-Toxic Silicone for Coffee and Water Colon Cleanse BPA and Phthalates Free (4 Liter)
---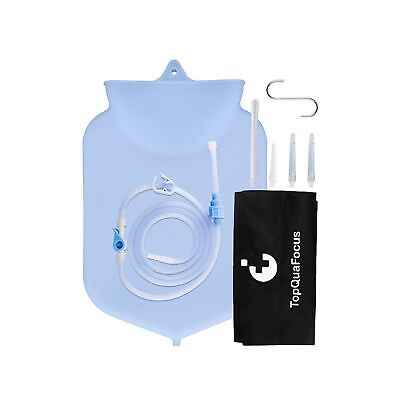 PREMIUM ENEMA BAG KIT --- This premium Enema bag is 4 Quart capacity, and this enema kit is great for retention, cleansing, coffee, general colon cleaning, and it can also be used as a feminine douche.
WASHABLE ANTI-BACK FLOW VALVE ---This enema bag kit has newest anti-back flow valve. You can disassembled this enema valve for cleaning, and then boil it for disinfection. This enema single-way valve is unique, only TopQuaFocus has.
NO LEAN CONTROL VALVE --- TopQuaFocus creats the newest control valve, N0 LEAK. You can disassemble the valve for cleaning, but not to hard.
EASY TO CHANG TIPS --- This enema bag kit includes 3 kinds & total 4 tips to give you option to choose. They are soft, well for customer body. We take the screw connect type between the tube with other enema parts, very easy to assemble and change tips.
SAFETY & HEALTH --- This silicone enema bag kit is meeting with American, European and Australian health standards, all the parts are made of pure silicone and non-toxic PVC.