Ultra Rare Pokemon Card NM Pack Lot (Ex, Gx, Full Art, and More!) Pokemon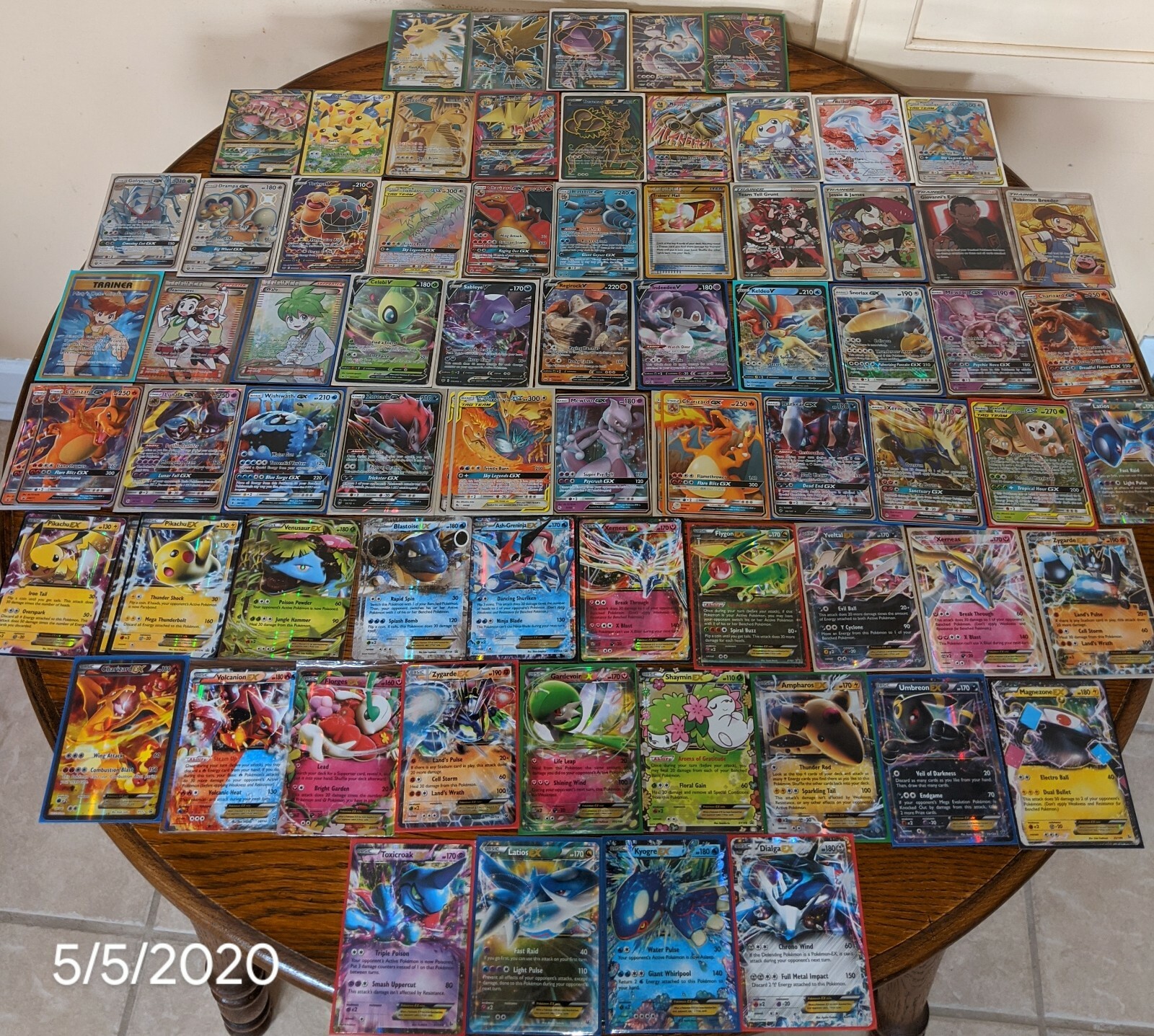 Характеристики
Featured Lots
Pokemon GX, Legendary Pokemon, Pokemon Break, Pokemon EX, Pokemon Mega
Country/Region of Manufacture
United States
Card Condition
Light Play, Near Mint or better
Read description for full transparency!
IMPORTANT: This listing will be updated with more card lots as they sell. The dates added to the photos represent when those cards were added. If there are two different dates in the photos I will be picking from the oldest batch of cards unless messaged otherwise!
Keep an eye on this listing for major updates or when it's contents change and if you have any questions or concerns reach out to me at anytime! :)
GENERAL DESCRIPTION
This listing is for a lot of cards with an ultra rare card being the highlight of the lot. The cards you see in the photos represent EXACTLY what ultra rare cards are available. You WILL receive one of these cards shown and WILL NOT receive any duplicates upon multiple purchases! The cards will be NM to LP and will be sleeved then top loaded for protection. The kinds of ultra rares range from the following: Ex, Gx, V, Full Art, and Secret Rare cards. The sets featured in these photos will generally range from the following generations of cards: Black and White, X&Y, Sun and Moon, and Sword and Shield. Older ultra rares such as Lvl X cards or the Ex Series exs may be included at times in the future, however these cards are very hard to come by so their inclusion will be quite rare.
Each lot will be packaged to resemble what you would find in a standard retail booster pack. Here is the breakdown:
5 Commons
3 Uncommons
1 Reverse Holo (any rarity)
1 Rare (non holo or holo)
1 Ultra Rare
While the commons, uncommons, and such are not pictured, each lot will have a variety of cards from every possible Pokemon set released! That means you'll receive cards ranging from Base Set to the most recent Sword and Shield set! I also guarantee each lot to have a few vintage cards. This is so everyone can collect cards from all different time periods instead of the most recent. And most importantly, NO ENERGY OR SUPPORT CARDS WILL BE USED AS A SUBSTITUTE FOR THESE CARDS. However, if anyone would like for me to add trainer cards or certain energies to their purchase just reach out to me at anytime! The rare slot will also have the chance of having a holo rare just as some added value and randomness. There's no set amount of these that I'll be adding to each new wave of ultra rares so it'll be random each time!
Special note for parents: If you're buying this as a gift for your son or daughter, reach out to me with their favorite Pokemon and we can make a special lot with all their favorites!
(As long as I have the cards that is!)
Bonus
As I did with the original lot, I'll also be adding break cards and prism cards as a bonus to 10 special lots. This means there's a 10% chance to receive one of these special lots. I don't have these in the photos as I don't want anyone to believe that these cards are grouped with the Ultra Rare cards. Many of these cards are worth about as much as a regular holo rare so putting them in the same slot as an ultra rare would be a complete scam..
SHIPPING
I generally ship within 24 hours of a purchase taking place. If anything should delay your shipment I will notify you of what's going on. Orders are shipped in a standard envelope with stamp without tracking. If an order is large enough then a bubble mailer or larger parcel will be used instead and tracking will be added. Currently I only ship within mainland United States so I'm sorry if you live internationally!
PAYMENT AND REFUND
For payment, I only use PayPal as it is the fastest and safest option here on eBay. And finally, due to the nature of the listing being randomized I do not accept refunds.