Vintage HITE-RITE Saddle Dropper -- New // Sealed In Package Hite-Rite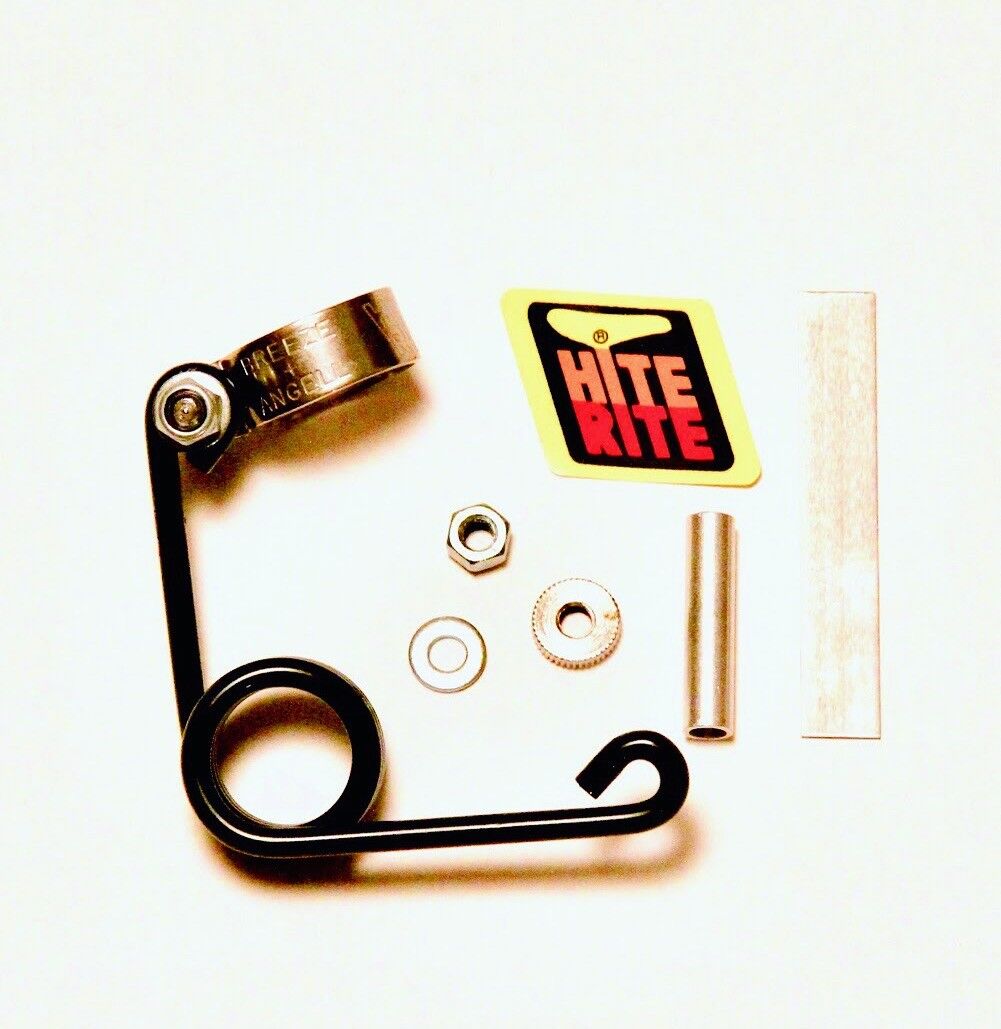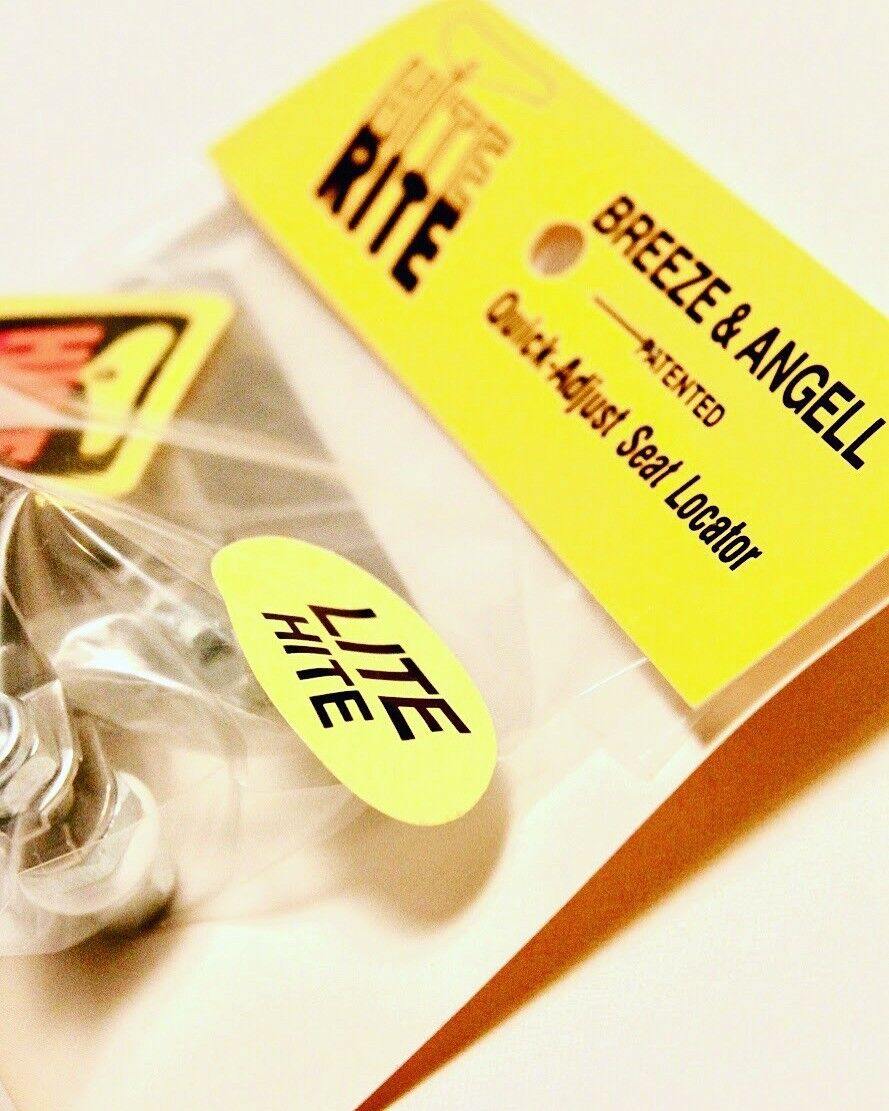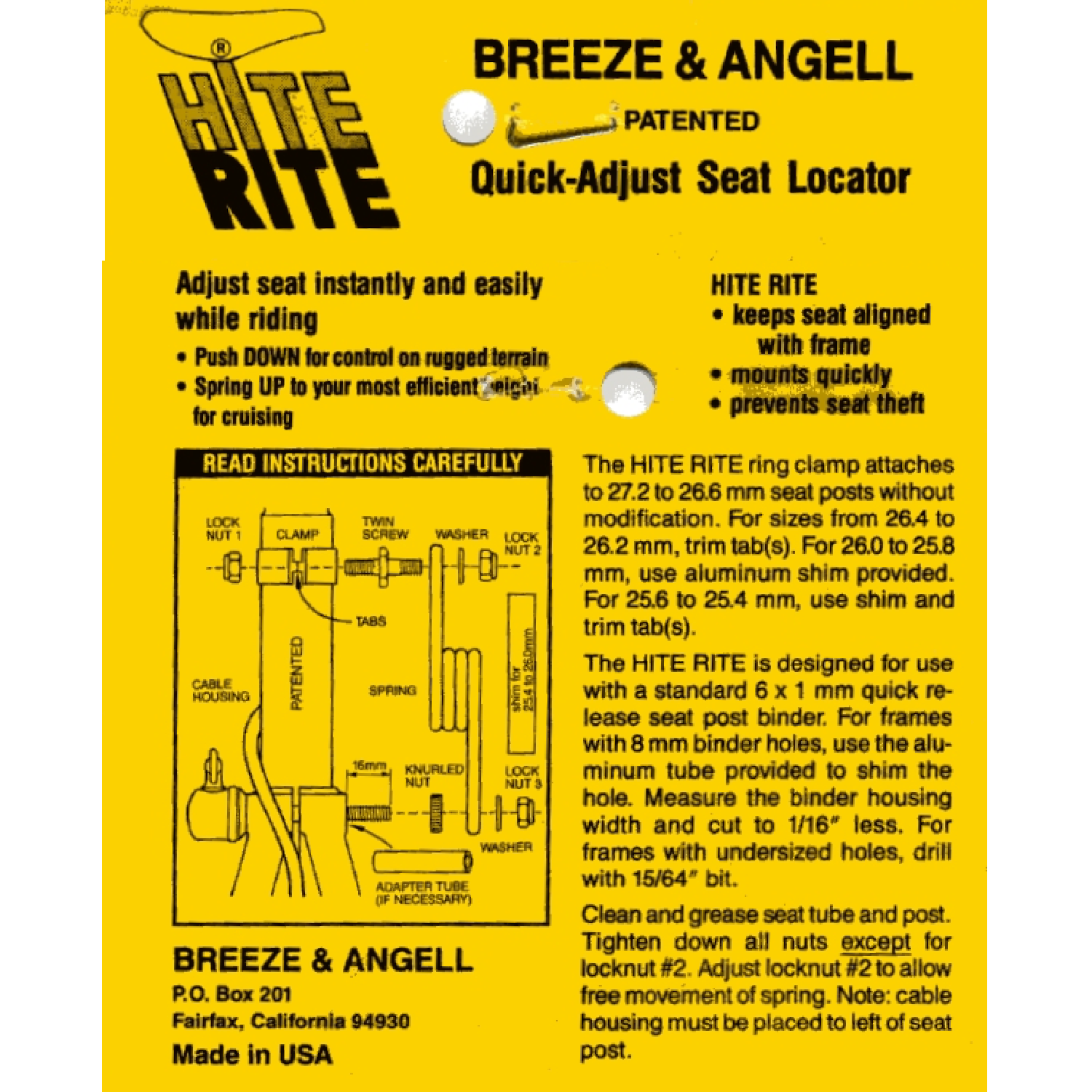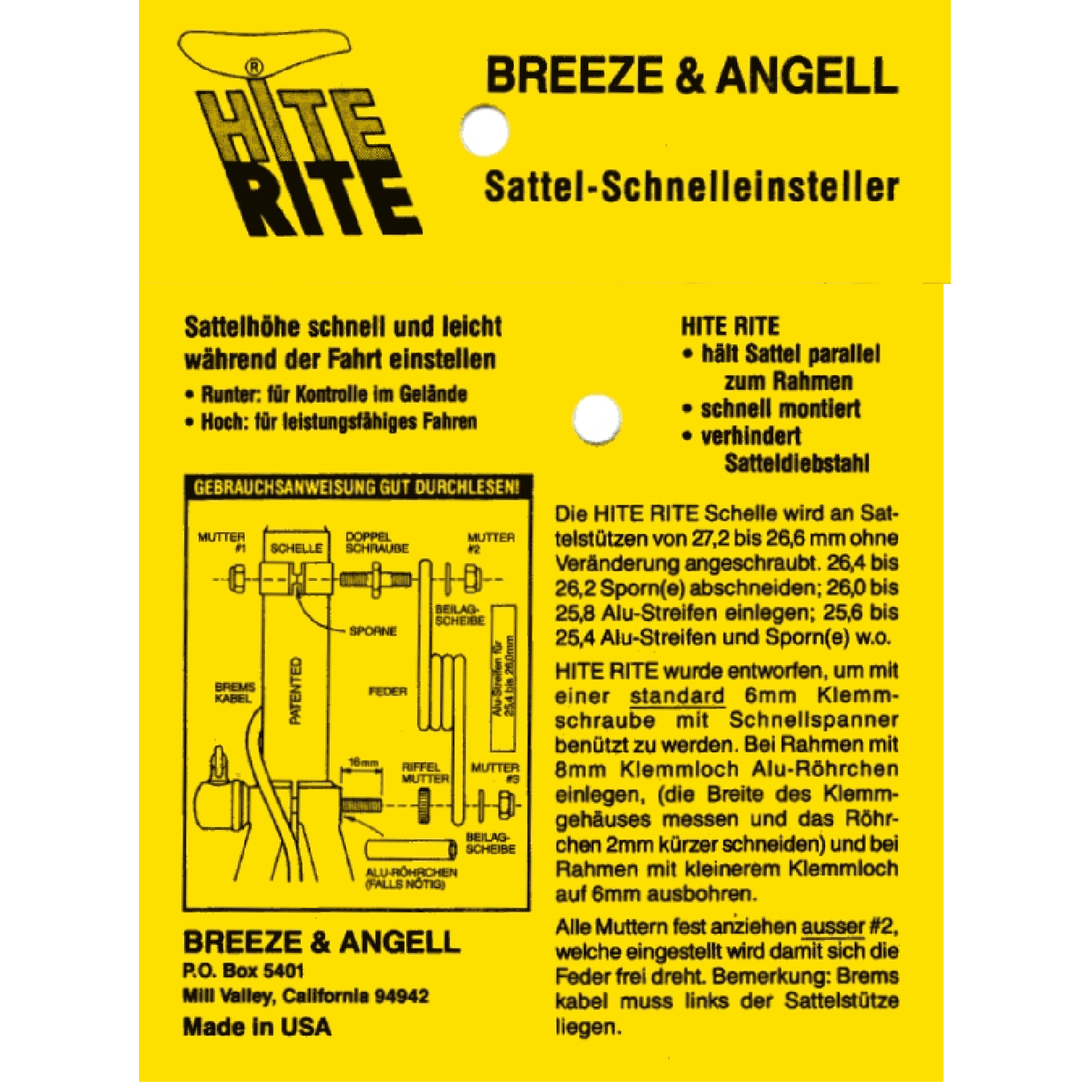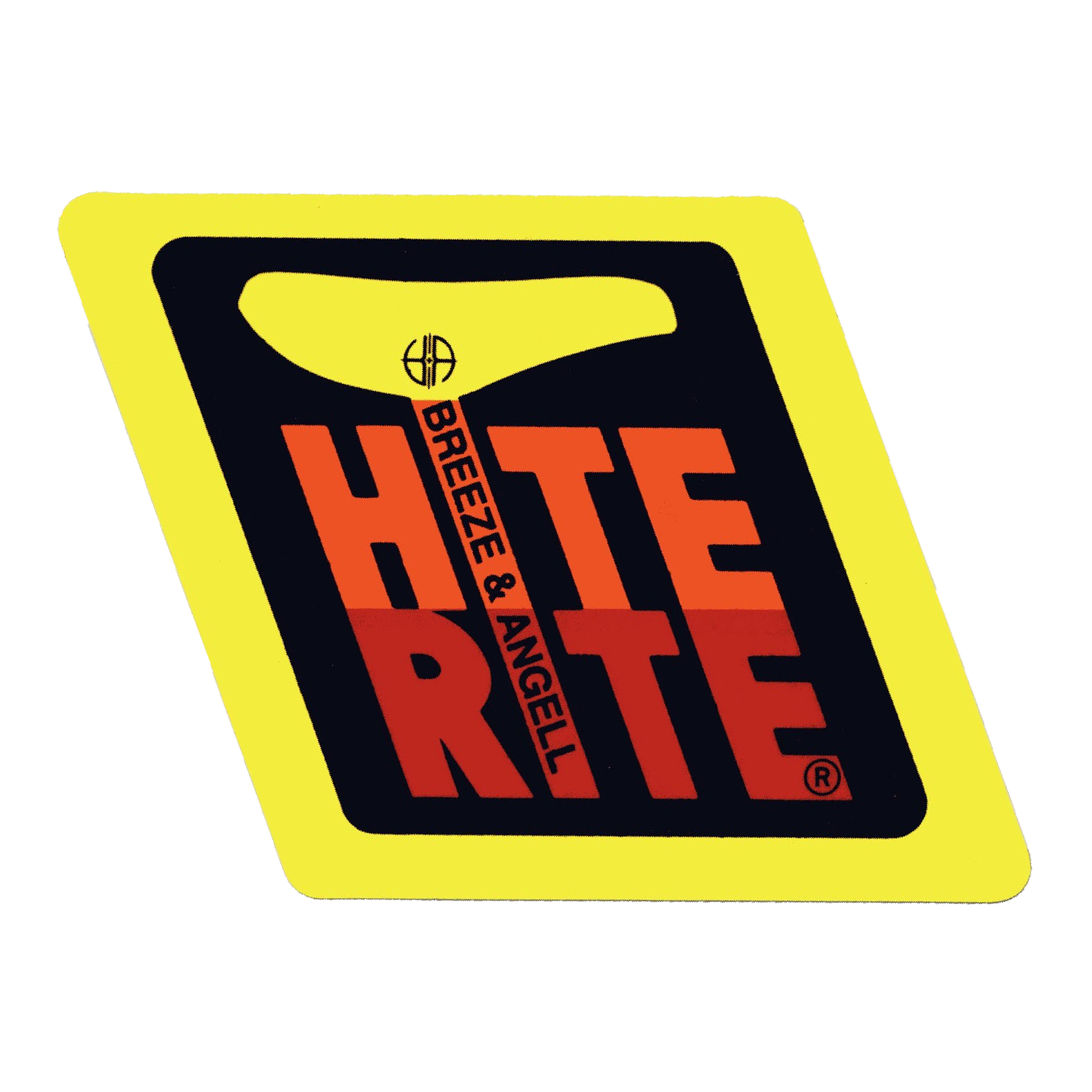 Характеристики
Country/Region of Manufacture
United States
Manufacturer
Breeze & Angell
Type
Seatpost, Saddle Dropper, Vintage, Parts
For Bike Type
Mountain Bike
The Hite-Rite is BACK!
Breeze & Angell, makers of the patented Hite-Rite quick-adjust seat locator, have released their last remaining Hite-Rites, available here in the official Hite-Rite Ebay Store. For the first time in decades, it's easy to get a sealed, new-old-stock Hite-Rite. No time machine necessary!
This Buy-It-Now listing is for one HITE-RITE –– The original seatpost dropper.
WORLDWIDE SHIPPING AVAILABLE! For French and German language instructions, please see our photo album above.
Item is New Old Stock (NOS). Each Hite-Rite has been carefully stored and preserved in its original, unopened packaging since production in the 1980s. Every item ships directly from Breeze & Angell, has never been previously sold, and is a genuine vintage product.
Simply:
Choose your preferred spring length

Choose your preferred spring color

Choose your bicycle's seatpost diameter

Choose Buy It Now!
Before ordering, make sure to read our F.A.Q. and determine if your bicycle can securely mount a Hite-Rite.
For seatpost diameters over 28.2 mm and up to 32.0 mm, a vintage Breeze & Angell Oversized Ring Clamp will be included free of charge.
Each Hite-Rite (except for the Chrome Race-Hite) comes with a vintage Hite-Rite sticker sealed in the original packaging.
History and Product Description
In 1984 Joe Breeze and Josh Angell introduced the revolutionary Hite-Rite, giving mountain bikers the ability to raise and lower their saddles on the fly. Included as original equipment by Fisher, Breezer, Specialized, Trek, Cannondale, Fat Chance, Salsa, Steve Potts, American, Jamis, and many other brands––and installed as an aftermarket upgrade by thousands more riders––the Hite-Rite became a icon.With the patented Hite-Rite Seat Locating Spring, you can always keep your saddle at the perfect height, and perfectly aligned with your frame. Undo your quick release while seated to lower your saddle height for better control on rugged or steep descents. Release the lever again to bring your saddle back up to your original riding height. Descend with conviction!The classic Hite-Rite quickly mounts to most mountain bikes made before 1995 (and many made after), affixing directly to your seat binder and post. The piece of retro tech is the perfect addition to any vintage mountain bike build. A limited quantity of vintage NOS Hite-Rites are available. The genuine, sealed Hite-Rite listed here is your chance to own the original.
What you'll need to securely mount your Hite-Rite:
A seat clamp binder that is welded to your frame, i.e. not a separate removable clamp

A seatpost quick release with a domed head (most made before circa 1995) and 6mm-diameter skewer that will extend at least 16mm beyond the frame

A seatpost of any common diameter, from 25.4 mm to 32.0 mmA seatpost clamp that will accept a 6mm skewer
This is a speciality component intended for vintage bicycles. Before ordering, PLEASE read our FAQ section!
Got another question? Contact us!
FAQ - Frequently Asked Questions
Will a Hite-Rite fit on my bike?
Please see the following 3 questions to determine if your bike will safely fit a Hite-Rite!
What frame features are recommended to easily fit a Hite-Rite?
To fit a Hite-Rite without frame modification, you will need a seat binder that is welded onto the frame (not a separate ring that clamps to the frame, as normally found on newer mountain bikes). Because of this, Hite-Rites are best suited to bikes made from approximately 1977 to 1997. If your bike's seat clamp is a separate ring, see "Can I fit a Hite-Rite to my modern frame?" below.
What kind of quick release is necessary to fit a Hite-Rite?
You will need a quick release lever with dome-type cam housing, i.e. most quick releases made before circa 1995. The quick release skewer must be 6mm in diameter and extend 16mm beyond the edge of the seat binder to hold the Hite-Rite securely.
How long does my seatpost need to be to fit a Hite-Rite?
The Hite-Rite will fit almost any length seatpost. If your seatpost is extremely short, measure its "Y" height to determine if it can fit a Hite-Rite. The "Y" height of your seatpost is the distance between the highest clampable point on your seatpost, and the point where the seatpost enters the frame (when positioned at your normal riding height). Standard-Hite and Lite-Hite models require a minimum "Y" height of 3.5 inches. Xtra-Hite models require a minimum "Y" height of 4.5 inches. Race-Hite models require a minimum "Y" height of 2.5 inches.
How much does a Hite-Rite weigh?
A Standard-Hite model weighs about 100 grams. A Lite-Hite or Race-Hite model weighs about 80 grams. An Xtra-Hite model weighs about 140 grams.
Can I fit a Hite-Rite on my road bike?
Yes. As long as your road bike meets the above criteria (welded seat binder, domed quick release, 6mm-diameter skewer, appropriate skewer length, appropriate seatpost length), you can fit a Hite-Rite. For road bikes, we recommend the Race-Hite model. It is the most lightweight and has all the adjustment you need for riding pavement or gravel.
Can I fit a Hite-Rite on my Klunker or cruiser?
Not usually. Cruiser-type bikes tend to have seat tube diameters that are too small. The smallest recommended size is 25.4mm.
Can I fit a Hite-Rite to my modern frame?
Not if your frame has a separate seat post clamp, that clamps on to the frame. We are working on a kit to adapt a Hite-Rite to a frame with a modern seat binder. Prototypes are working, but we are waiting for supply of the necessary parts. It's also not a super easy process: your at-home conversion will need to involve drilling and tapping a small hole at the top of your seat tube.
How do I find the diameter of my seatpost?
Most seat posts have their diameter embossed below the minimum insertion line. If you cannot find a diameter marking on your post, and do not have access to slide calipers, wrap a strip of paper around your seatpost (to measure its circumference), then divide the circumference by pi (3.14) to find the diameter.
My bike has a large diameter seatpost (28.2mm and over). Should I select the oversize seatpost diameter option when ordering?
Yes. Two oversize ring clamps are available. Find your seatpost diameter, and see the drop-down menu at the top of this listing to determine which ring clamp you need. There are three options: standard, oversize, and mega oversize. All Hite-Rites come stock with a standard ring clamp. Oversize orders will ship with an oversize ring clamp with the package.
My quick release skewer doesn't extend very far. Can I still fit a Hite-Rite?
We don't recommend fitting a Hite-Rite to a quick release skewer with an overhang below 16mm. In some cases, you can increase the available overhang length by using a thinner washer on the lever side of the quick release. Obtaining a longer quick release skewer will allow you to fit a Hite-Rite to a bicycle that meets all other specifications.
My seatpost is tight in my frame, and very difficult to move. Will a Hite-Rite work?
A functional Hite-Rite relies on a movable seatpost. If your seatpost cannot slide in your frame to adjust your seat height, your Hite-Rite will only be for show. Want tips on reaming your seat tube to permit great Hite-Rite movement? Just contact us and ask for a PDF of our vintage How-To sheet!
Does the Hite-Rite only drop my saddle all the way down, or can I adjust the drop distance?
Within the range of spring adjustment, the Hite-Rite is infinitely adjustable. Lowering your saddle even a fraction of an inch can vastly improve comfort on a bumpy downhill!
I weigh under 140lbs. Will a Hite-Rite work for me?
We recommend a Lite-Hite for riders under 140lbs. The Lite-Hite has a thinner spring and can be compressed more easily. A lighter rider may not be able to fully compress a Standard-Hite model.
Are installation instructions available?
Yes. They are available in English, French, and German. Please see the image gallery, or for English, just look on the packaging of your new Hite-Rite.
Are these Hite-Rites really N.O.S.? Have they been repackaged or previously used?
They are true New Old Stock. All our Hite-Rites are still in their original, sealed packaging from the late 1980s. The packaging is not faded. Each item is identical to how it would appear on the shelf of your local bike shop in the 1980s. Buy with confidence!
AVAILABLE WHILE SUPPLIES LAST!